Companies' Attitudes Towards Electronic Exchange of Freight Transport In-formation : A Case Study with German Companies of the Maritime and Lo-gistics Industry
Schillberg, Andreas (2020-08-25)
---
Companies' Attitudes Towards Electronic Exchange of Freight Transport In-formation : A Case Study with German Companies of the Maritime and Lo-gistics Industry
(25.08.2020)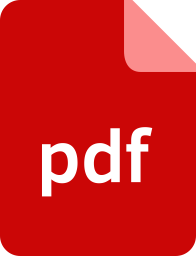 Julkaisu on tekijänoikeussäännösten alainen. Teosta voi lukea ja tulostaa henkilökohtaista käyttöä varten. Käyttö kaupallisiin tarkoituksiin on kielletty.

suljettu
Julkaisun pysyvä osoite on:
https://urn.fi/URN:NBN:fi-fe2020101383983
Tiivistelmä
The present master's thesis aims to detect how the data exchange of delivery documents in the transport chain in companies is realized in theory and practice and what are companies' attitudes and opinions about electronic data exchange. The purpose was to gather meaninful information of German companies' employees as a support for the so-called "MDSS" project, which aims to automate order and supply chain data exchange in a digital platform, and its possible market launch in other countries than in its original market, Finland. For doing so, the following research question was formulated: Which attitude do German companies along the transport chain of the maritime industry have towards electronic exchange of freight transport information via standardized technologies? For answering the research question, the paper was divided into three areas: Electronic data interchange (EDI), information quality, and standards for information exchange.

Based on the results of a literature review and of in-depth interviews, which were conducted with managers from logistics and maritime companies concerning the three aforementioned areas, similarities and differences between former literature and the interview results were found. Findings showed that similarities between prior literature and the interview results exist in that companies' employees see a great potential in EDI with standardized technologies, and that they appreciate its potentially resulting performance improvements due to process accelerations and uniformity as well as information quality enhancements. However, especially the interviewed logistics managers emphasized fundamental disadvantages and had concerns regarding the proper functioning and use of EDI systems due to high time and effort, and regarding the excessive supply of different EDI systems and standards, which may hinder the proper functioning and use of the systems as well as the guarantee of satisfying information quality. Digitalization and automatization of transport documents still lack reach as inconsistencies among different information systems and standards prevail on the market, impeding high-quality freight transport information exchange.

The conclusions show that logistics companies value fast, lean processing of transfer orders more than the emphasis on strengthening business relationships when considering EDI adoption for transport document exchange purposes. Additionally, they see great advantages in the use of EDI with standards for information exchange, especially in performance and efficiency improvements due to improved information quality, but they have concerns about the proper functioning and use of these information systems. Theoretically, the research results imply that further research should verify the findings quantitatively by surveying a more representative sample. Practically, the results support the "MDSS" project to consider taking further steps towards a launch into the German market; Germany appears to be an attractive market for platforms like "MDSS" with a high market potential. The paper shows a limitation as generalizability of the results could not fully be achieved.