Structural modeling and analysis of non-mammalian CA VI
Al-Farabi, Abdullah (2020-11-26)
---
Structural modeling and analysis of non-mammalian CA VI
(26.11.2020)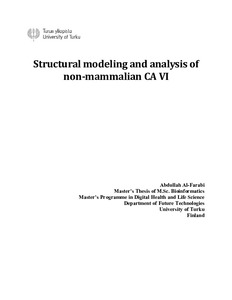 Julkaisu on tekijänoikeussäännösten alainen. Teosta voi lukea ja tulostaa henkilökohtaista käyttöä varten. Käyttö kaupallisiin tarkoituksiin on kielletty.

avoin
Julkaisun pysyvä osoite on:
https://urn.fi/URN:NBN:fi-fe20201214100481
Tiivistelmä
Pentraxins are a family of host defense components of the innate immune system and phylogenetically conserved pattern recognition proteins. The short pentraxins are serum amyloid P component (SAP) and C-reactive protein (CRP), and the long pentraxins are pentraxin 3 (PTX3), which are only pattern recognization molecules.

In non-mammalian species, carbonic anhydrase VI (CA VI) contains an additional short pentraxin domain, and short pentraxins form pentamer units. Our study is an effort to understand the interaction properties pattern of the pentameric model of zebrafish CA VI+PTX complex.

Our results based on the comparisons between SAP and CRP structures and the cluster between their protomers seem different as the list of contacts varies. Between the pentameric model of zebrafish CA VI+PTX complex and CRP electrostatic surfaces, significant hydrophilic and hydrophobic differences are observed among the CA VI+PTX complex and CRP. The counted conserved residues in both pentraxins are the same, but the fact that conserved residues in similar positions and conserved between SAP and CRP. The SAP has a lot more conservation, which is buried, and it seems to have more contact structure because many of these essential residues are buried, at least 95%. The interface residues are not highly conserved but whereas the calcium-binding sites are relatively conserved. The Ca2+ binding sites of pentraxins are organized in a similar mode, and Ca2+ ions coordinating residues are the same in both pentraxins.

Finally, compare the contact between SAP and CRP. The amount of contact or amount of contact residue is similar, only that the mode of binding is very different. Because of the difference and low conservation of contacting residues, it is concluded that the mode of Ca6 associated PTX cannot be fully predicted based on this study. However, multiple van der Waals contacts and one ionic contact were observed to be conserved between CRP and SAP, which may form a basis for understanding contacts between CA VI +PTX monomers.