Rousseau's Harmony as a Natural Foundation of Morality
Salmi, Irina (2020-12-09)
---
Rousseau's Harmony as a Natural Foundation of Morality
(09.12.2020)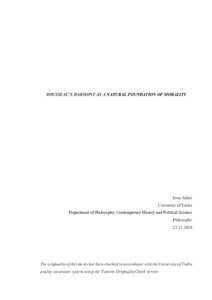 Julkaisu on tekijänoikeussäännösten alainen. Teosta voi lukea ja tulostaa henkilökohtaista käyttöä varten. Käyttö kaupallisiin tarkoituksiin on kielletty.

avoin
Julkaisun pysyvä osoite on:
https://urn.fi/URN:NBN:fi-fe20201217101296
Tiivistelmä
During his lifetime, Jean Jacques Rousseau (1712-1778) created a deep understanding of us human beings as parts of a uniform whole of Nature. On this natural foundation he also constructed his moral philosophy. He never presented this natural foundation of morality in a clear-cut manner, but instead scattered it throughout his manifold writings. In this thesis the aim is to produce a nutshelling of Rousseau's moral thinking in order to show that once viewed as a whole, it may prove to be a coherent system that can explain our moral nature in a detailed and elaborate way. This will be done by constructing an argument to describe his moral thinking. The premises and the conclusion of the argument will be considered one at a time, via a wide range of Rousseau's literary works.
The argument considering Rousseau's moral thinking will be presented with three premises; (1) Moral decisions are made by combining two methods; rational deliberation on the one hand, and using a moral instinct, innate in all of us, on the other, (2) this moral instinct functions properly only when it is based on a harmonious connection with the whole of Nature, and (3) in the modern life of mankind this Nature connection has been severely diminished. Hence, the conclusion is drawn that this has led to problems with our moral instinct functioning properly and thus, to an imbalance in our moral decision-making process.
After this argument has been well-founded, it will be briefly considered how in Rousseau's opinion we could change this unfortunate situation. How could we regain the Nature connection which might then give us a more balanced ability to act in a morally sustainable manner? The answer will lead us to a search for our own inner moral truths by evoking and strengthening our natural feeling of compassion. This can be accomplished via a phenomenological realization of our place in this seamless net of co-existence we call life. In addition, it will be discussed in what manner this harmony with Nature might be relevant also in helping us with such complex contemporary moral issues as the climate change.
Samankaltainen aineisto
Näytetään aineisto, joilla on samankaltaisia nimekkeitä, tekijöitä tai asiasanoja.
Välimäki M

;

Anttila M

;

Nakahara J

;

Kontio R

;

Kitaoka K

;

Ohnishi K

<div><h2><br /></h2></div>

Puumala, Mikko M.

Reports from the Department of Philosophy : 51

(

Turun yliopisto

,

14.10.2023

)

In this dissertation I examine how ordinary morality operates in the context of climate change, with a specific focus on moral demandingness. I will employ climate change as a conceptual stress test, to analyse how ordinary ...

Huttunen, Henri

(

02.10.2019

)

At the beginning of the 21st century, humanity faces multiple unprecedented global dilemmas that defy easy solutions and call into question the ability of the liberal democracies to rise to answer them. At the same time, ...

avoin