Validating Guide RNA Hits For Improving CRISPRa-Reprogramming
Heikkinen, Harri (2021-02-10)
---
Validating Guide RNA Hits For Improving CRISPRa-Reprogramming
(10.02.2021)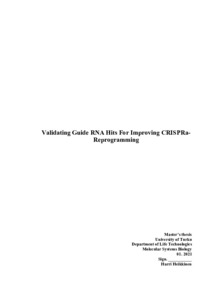 Julkaisu on tekijänoikeussäännösten alainen. Teosta voi lukea ja tulostaa henkilökohtaista käyttöä varten. Käyttö kaupallisiin tarkoituksiin on kielletty.

avoin
Julkaisun pysyvä osoite on:
https://urn.fi/URN:NBN:fi-fe202103117223
Tiivistelmä
Somatic cells can be reprogrammed into induced pluripotent stem cells (iPSCs) by ectopically overexpressing the transcription factors OCT4, SOX2, KLF4 and c-Myc. This technique has since its invention been a topic of intense research and hold great promise for use in biomedicine. However, the reprogramming process itself remains inefficient and slow. Recently CRISPR/Cas9-mediated gene activation (CRISPRa) has been employed for the reprogramming of the human somatic cells into iPSCs. CRISPRa has proven advantageous in many aspects, such as the ability to activate many genes simultaneously and endogenously. In this method, precisely targetable guide RNAs mediate an enzymatically inactive mutant of Cas9, nuclease-dead Cas9 (dCas9)-initiated activation of the target sequence through a transactivator protein. However, CRISPRa still needs to be optimized as it is not very efficient. For optimizing the CRISPRa method, we need to target additional endogenous genomic sequences which are known to be able to increase reprogramming efficiency. Prior CRISPRa screen, carried out by the Otonkoski research group, identified enrichment of genes KLF2, KLF5 and KLF17, which are expected to increase reprogramming efficiency. In addition, Otonkoski and his group did a single cell RNA sequencing at different time points during reprogramming, which identified two of the expressed candidate genes: epithelial cell adhesion molecule (EpCAM) and ZNF486. The aim of this thesis was to validate the enriched guides of KLF2, KLF5 and KLF17 for their endogenous gene activation efficiency, and to create and validate functional guides for the endogenous activation of EpCAM and ZNF486. In addition, our task was to define the effect the expression of these guides have in the pluripotent reprogramming process. The results of this thesis describe endogenous gene activation of targeted sequences using synthesized guides, with a correlation between efficiency and the distance to the gene promoter site. Additionally, while the reprogramming of human foreskin fibroblast cells using CRISPRa was successful, the incorporation of guides for EpCAM in the cell populations did not increase the efficiency of the reprogramming process. In fact, the presence of EpCAM seemed to inhibit the development of iPSCs, at least in fibroblasts.