PARTIAL THYROCYTE-SPECIFIC Gαs DEFICIENCY LEADS TO RAPID-ONSET HYPOTHYROIDISM, HYPERPLASIA, AND PAPILLARY THYROID CARCINOMA-LIKE LESIONS IN MICE
Jännäri, Meeri (2021-03-16)
---
PARTIAL THYROCYTE-SPECIFIC Gαs DEFICIENCY LEADS TO RAPID-ONSET HYPOTHYROIDISM, HYPERPLASIA, AND PAPILLARY THYROID CARCINOMA-LIKE LESIONS IN MICE
(16.03.2021)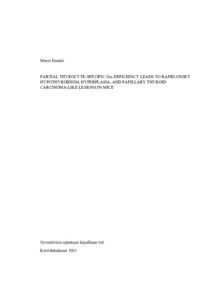 Julkaisu on tekijänoikeussäännösten alainen. Teosta voi lukea ja tulostaa henkilökohtaista käyttöä varten. Käyttö kaupallisiin tarkoituksiin on kielletty.

avoin
Julkaisun pysyvä osoite on:
https://urn.fi/URN:NBN:fi-fe202104019315
Tiivistelmä
Hypothyroidism is a condition where thyroid gland is not producing enough thyroid hormone, thyroxine, which regulates development, growth, and energy metabolism. The production of thyroxine is regulated by thyrotropin (TSH), a hormone secreted from the pituitary gland. TSH stimulates thyroid via thyrotropin receptor (TSHR). TSHR is a G-protein-coupled receptor and the stimulation of the receptor activates different intracellular signaling pathways. The main signaling pathway in thyrocytes is Gs-pathway, which stimulates the production of cyclic adenosine monophosphate (cAMP). G-proteins are composed out of α- and β-subunits. It is still not known how different G-proteins effect to thyroid pathophysiology. The aim of the study is to investigate if deletion of thyroid specific Gs-protein α-subunit (Gαs) leads to hypothyroidism in a tamoxifen induced Gαs knock-out mouse model (iTGasKO).

Genotyping of the mice was performed from DNA isolated from skin tissue. Serum TSH and thyroxin levels were measured from blood samples. cAMP, qPCR, histological and immunohistochemical experiments were done from thyroid tissue samples collected from the mice. The mice were weighted and measured every two weeks. EchoMRI was used to measure body composition and runners were used to measure the activity of the mice. Statistical analyses were done using Prism7 software.

In general, iTGasKO mice were less active and in addition, weight loss and a lower amount of white adipose tissue were seen only in males. Unlike in human, in rodents it is typical to lose weight in hypothyroidism. In iTGasKO mice the serum thyroxine levels were lower and TSH levels higher compared to control mice (P<0.01) and cAMP production was decreased both in basal level and after stimulation (P<0.01). Gαs was expressed in small amounts in iTGasKO mice, but thyroid specific transcription factors and genes regulating thyroid hormone synthesis were downregulated. As an unexpected result, 6 months old iTGasKO mice were diagnosed to have papillary thyroid cancer-like lesions in histopathological studies. These areas were also shown to express Gαs-protein. This leads to conclusion of high TSH levels and partial Gαs expression leading to cancer-like lesions. This mouse model is a new way to show how TSHR's Gs-pathway knock-out leads to hypothyroidism. However, different species carry different signaling pathways, so the changes may not be identical in human pathophysiology.