Late Chromatoid Body and its Role in RNA Regulation During Spermatid Elongation
Kärnä, Salli (2021-05-04)
---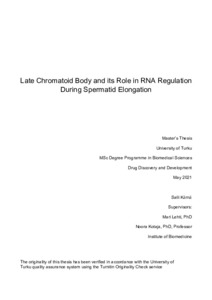 avoin
04.05.2021
Julkaisu on tekijänoikeussäännösten alainen. Teosta voi lukea ja tulostaa henkilökohtaista käyttöä varten. Käyttö kaupallisiin tarkoituksiin on kielletty.

Julkaisun pysyvä osoite on:
http://urn.fi/URN:NBN:fi-fe2021060834764
Tiivistelmä
Spermatogenesis generates male gametes for reproduction. Spermiogenesis is the last part of spermatogenesis, where haploid male germ cells undergo differentiation from round spermatids to elongating spermatids and finally mature spermatozoa. During round spermatid differentiation, the chromatoid body (CB) functions as an RNA processing centre of the haploid male germ cells. In the beginning of spermatid elongation, the CB transforms into the late CB. Many of the RNA regulatory components get discarded, and other proteins start to accumulate to the late CB, such as testis-specific serine/threonine kinase 2 (TSSK2). The roles of TSSK2 and late CB in spermatogenesis remain largely unexplored. To investigate TSSK2 and late CB function, we co-immunoprecipitated TSSK2 interacting proteins and analyzed them with mass spectrometry. Eukaryotic initiation factor 3 (eIF3) complex was found as a novel interaction partner for TSSK2. Two hypotheses were formed: (i) TSSK2 and eIF3 interact in elongating spermatids, and (ii) the late CB has a role in the regulation of translation. The first hypothesis was tested with co-immunoprecipitation, immunofluorescence and proximity ligation assay, that all supported the nearby presence of TSSK2 and eIF3 in elongating spermatids and the late CB. The second hypothesis was tested with translational analysis, labelling newly synthetized proteins with L-azidohomoalanine. An accumulation of nascent proteins was detected in elongating spermatids in cytoplasmic sites corresponding to the late CB. In conclusion, this study reveals a novel interaction between TSSK2 and eIF3 in elongating spermatids and suggests that the late CB function is connected to translation and RNA regulation in male germ cells.