Role of G-quadruplexes in targeting of somatic hypermutation
Honkonen, Eveliina (2021-05-26)
---
Role of G-quadruplexes in targeting of somatic hypermutation
(26.05.2021)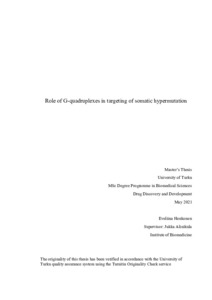 Julkaisu on tekijänoikeussäännösten alainen. Teosta voi lukea ja tulostaa henkilökohtaista käyttöä varten. Käyttö kaupallisiin tarkoituksiin on kielletty.

avoin
Julkaisun pysyvä osoite on:
https://urn.fi/URN:NBN:fi-fe2021061637796
Tiivistelmä
Formation of high-affinity antibodies towards antigens is ensured with a process called somatic hypermutation, which happens during affinity maturation of activated B-cells. During this process point mutations are introduced to variable regions of rearranged immunoglobulin genes. Activation-induced cytidine deaminase (AID) is the key enzyme in somatic hypermutation and it deaminates deoxycytidines in single-stranded DNA into deoxyuridine causing mutations. AID preferably binds structured instead of linear DNA and G-quadruplexes (G4s) can potentially be such structures. G-quadruplexes are formed when four guanines interact via Hoogsteen hydrogen bonds and rearrange into co-planar G-quartets which when stacked form the quadruplex structure. The purpose of this study was to find out if these G4s are connected to targeting of somatic hypermutation.

The research was done using GFP-based reporters in chicken DT40 B-cell lines. The cells were studied by flow cytometry in GFP reporter assay and by sequencing. Results from the study indicate that G4s could have an effect in targeting of somatic hypermutation. Removing the already existing G4s significantly reduced somatic hypermutation and changed the locations of mutations. In contrary, adding a strong G4 increased somatic hypermutations but the difference was not statistically significant. However, also in this case, sequencing showed a shift in the locations of mutations towards the G4 structure and an increase in the mutations around the area where the G4 was added.

The results suggest that when the requirements of locus-specific targeting of somatic hypermutation are met, G4s play a role in determining the exact locations of mutations within the gene.