Mechanistic exploration of ligand binding to ETB receptor embedded in different membrane environments
Frolovaite, Paulina (2021-06-04)
---
Mechanistic exploration of ligand binding to ETB receptor embedded in different membrane environments
(04.06.2021)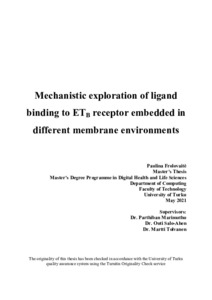 Julkaisu on tekijänoikeussäännösten alainen. Teosta voi lukea ja tulostaa henkilökohtaista käyttöä varten. Käyttö kaupallisiin tarkoituksiin on kielletty.

avoin
Julkaisun pysyvä osoite on:
https://urn.fi/URN:NBN:fi-fe2021062239568
Tiivistelmä
Endothelin B (ETB) receptor belongs to a GPCR family, and it consists of seven transmembrane helices connected by three extracellular and intracellular loops. ETB receptor's main function is vasodilation, thus the receptor is involved in diseases affecting the vasculature. Therefore, ETB targeting drugs have been a major topic in drug discovery and design. Several drugs have been developed, with two of them being bosentan and K-8794. Bosentan is an antagonist targeting both ETA and ETB receptors, while K-8794 is bosentan's high affinity analog (150 nM) targeting selectively to ETB receptor. In this current investigation, the main goal was to explore and understand the mechanistic basis of bosentan and K-8794 binding to ETB receptor embedded in POPC, DPPC, POPE and DMPC membrane environments. To achieve this, a series of long-range molecular dynamics (MD) simulations were carried out. The trajectories from the simulation outputs were analysed for the receptor's structural stability (RMSD, RMSF, Rg, H-bond). Moreover, essential dynamics analysis based on principal component analysis (PCA), binding free energy (BFE) estimation based on MM/GBSA approach, and dihedral angle analysis for the hotspot residues were carried out. According to the RMSD analysis revealed that all the systems have reached the equilibrium state during the last 200 ns of the MD simulations. The RMSF investigation reported that the most fluctuating regions of the receptor were the extracellular and intracellular loops. The Rg analysis showed that the ligand-receptor complexes maintained their overall compactness in most of the membrane environments. The H-bond analysis suggested that the ETB receptor residues Lys182, Lys273, and Arg343 formed relevant H-bond interactions with the two ligands and the ETB receptor. The PCA analysis showed that the ligand-ETB complexes were highly flexible by forming several conformations; however, the two ligands were restraining the receptor by disallowing any drastic helical movement. The BFE estimation revealed the most energy contributing (hotspot) residues – Lys182 and Trp336 for both bosentan and K-8794-ETB complexes. The dihedral angle analysis showed that both hotspot residues maintained similar conformation for all of the ligand-bound ETB complexes embedded in the four membrane environments.