The Rise of the China Threat: The Development of the China Discourse in the U.S. Administrative Documents in 2010-2021
Lehto, Roosa (2021-10-08)
---
The Rise of the China Threat: The Development of the China Discourse in the U.S. Administrative Documents in 2010-2021
(08.10.2021)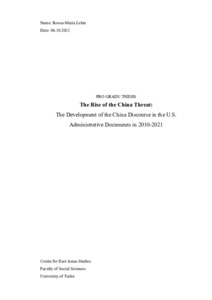 Julkaisu on tekijänoikeussäännösten alainen. Teosta voi lukea ja tulostaa henkilökohtaista käyttöä varten. Käyttö kaupallisiin tarkoituksiin on kielletty.

avoin
Julkaisun pysyvä osoite on:
https://urn.fi/URN:NBN:fi-fe2021111154809
Tiivistelmä
The relationship between the United States of America and the People's Republic of China is arguably one of the most closely observed relationship on a global scale. The state of the relationship between these two superpowers determines much of multilateral relationships. For decades, the U.S. mainly maintained peaceful and constructive relations with the PRC, as an attempt to keep the nation open and receptive to foreign actors. However, with China's rapid development in the 21st century, the relationship began to change. Gradually the U.S. became concerned of the true intentions of the PRC and of the challenges China's development presented to the U.S. in multiple fields.

This thesis observes these changes in the bilateral relations during the Obama and Trump administrations. The aim is to analyze how the China discourse has developed in 2010-2021, and how the U.S. administrative documents reflect its relations to China from the perspective of International Relations theories. The analysis is conducted from chosen administrative papers and documents concerning the national security of the United States. These texts include documents such as the National Security Strategy, the National Defense Strategy, and regional strategies concerning Asia. With discourse analysis, this thesis observes the gradual transition from diplomatic neutrality and cultural respect toward a formation of threat perceptions and strategic competition.

The administrative documents revealed a notable change in the China discourse, reflecting a shift from cooperative liberalism to strategic realism as the core narrative. The Obama administration maintained the U.S.-China relations from a perspective of peaceful cooperation and showed careful diplomacy when discussing China. However, the tone of the China discourse experienced a gradual shift toward realism, when the Obama administration began questioning the intentions of China and reflected concern on intellectual espionage conducted by the Chinese government. From the perspective of indirect illocutionary intentions, the Obama documents were filled with indirect discussions on repressive governments and challenging ideologies that are threatening the liberal world order.

The China threat assessment truly sparked during the Trump administration, when direct accusations and provocative means were directed at China. Despite a peaceful and cooperative beginning of U.S.-China relations during the Trump administration, the relationship quickly turned hostile. The Trump administration relied on direct illocutionary acts by promising to meet the challenges China posed and return the United States to its leadership position in all fields. The administration abandoned the liberal notions the U.S. had promoted before and faced China with a strategy based on principled realism. The familiar cooperative coexistence was now replaced with a strategic competition for global hegemony.