3D-modelling of microfracture networks associated with faulting in the crystalline Wiborg rapakivi granite
Lauraeus, Mathias (2021-11-26)
---
3D-modelling of microfracture networks associated with faulting in the crystalline Wiborg rapakivi granite
(26.11.2021)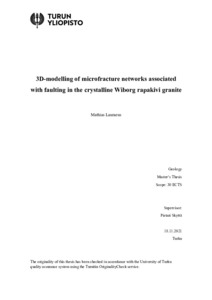 Julkaisu on tekijänoikeussäännösten alainen. Teosta voi lukea ja tulostaa henkilökohtaista käyttöä varten. Käyttö kaupallisiin tarkoituksiin on kielletty.

avoin
Julkaisun pysyvä osoite on:
https://urn.fi/URN:NBN:fi-fe2021112957679
Tiivistelmä
The main purpose of this MSc thesis is to study the 3D geometry of secondary microfracture associated with faults by using grinding the tomography method. Information on the 3D geometry of microfractures can be used, for example, for predicting the hydraulic conductivity of rocks and for more accurate interpretation of generation mechanisms and kinematics of faults. A 3D model of a microfracture network of one oriented rock sample was constructed from data collected with grinding tomography methods. The interpretations made on the 3D model were compared with the field measurements and GIS fracture trace interpretations based on 2D orthophotography data collected with a drone and a digital SLR camera. The second purpose of this thesis was to compare these two scales of 2D fracture trace datasets and find out how the change of observation scale from meters to centimeters affects the 2D topology and orientation distribution of the fracture networks. The study area is located on the Island of Orrengrund, Loviisa, SW Finland. The fault studied in the thesis is a sinistral strike-slip fault with a vertical dip, and a N-S trend.

In the grinding tomography method used in this thesis, a cylindrical 50*50*50 mm sample of rock is glued on a glass plate and grinded in slices with a 3D-grinder, so that after each slice the machine takes an image of the surface of the sample. When the images are combined by knowing the vertical position of each image, interpretations can be made on the observed fractures, and a 3D model can be constructed. In this thesis, a new GRN16 3D grinder of the University of Turku geology section was used. Grinding tomography images of the oriented rock sample were georeferenced on the orthophotos with QGIS software, so that the orientation data obtained from the 3D model of microfracture network was comparable with 2D fracture trace data and field measurements.

The results of the thesis showed that the 3D model of microfracture network constructed using grinding tomography has almost perfect correlation with the orientation distribution and crosscut relationships of field measurements. The study also revealed that the new 3D grinder of the University of Turku geology Section solves numerous problems regarding the use of the grinding tomography method in geosciences. In addition, topological differences were observed between the two different-scale 2D fracture trace datasets, reflecting that the topological properties of the fault's fracture systems could be scale-dependent.