Can Humans Initiate Saccadic Eye Movements to Targets They do not Consciously Notice?
Ronalter, Ruth (2021-12-15)
---
Can Humans Initiate Saccadic Eye Movements to Targets They do not Consciously Notice?
(15.12.2021)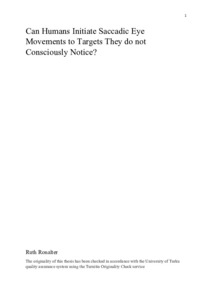 Julkaisu on tekijänoikeussäännösten alainen. Teosta voi lukea ja tulostaa henkilökohtaista käyttöä varten. Käyttö kaupallisiin tarkoituksiin on kielletty.

avoin
Julkaisun pysyvä osoite on:
https://urn.fi/URN:NBN:fi-fe2021122363132
Tiivistelmä
Saccadic eye movements are fast ballistic gaze shifts, and the most frequent movement in the human body, even more than the heartbeat. They are divided into 2 main groups: as express saccades, initiated before 100ms, and as normal saccades, initiated after 100ms. The source of saccadic eye movements has been long debated as conscious or unconscious movements. We attempted to determine if saccades could be initiated towards objects not consciously seen, operating under the hypothesis that saccades could be initiated towards objects that the subject was not consciously aware of. they were unconsciously controlled. We did this by tracking eye movements to stimuli obscured by metacontrast masking, designing the experiment trials to maximize the chance to see express saccades in subjects with unimpaired vision. We had subjects attempt to move their eyes as fast as possible when they saw stimuli, and then had them rate how well they saw the stimulus on a perceptual awareness scale of 0-3, where 0 was "not seen at all," and 3 was "definitely seen," the most important distinction being between ratings of 0 and 1.
Across 15 experimental subjects and 5 pilot subjects, only 2 participants made saccades unconsciously during the experiment. This lack of unconscious saccades limited our ability to analyze unconscious reaction times, and overall interpretation of the trends in reaction times. Instead, we compared reaction times between masked and unmasked saccades. Ultimately, the metacontrast mask interfered with the subjects' abilities to consciously detect the stimuli. The average reaction time while masked (448.6ms) was decreased compared to the unmasked condition (539.8ms), although there was strong individual variance, with some subjects having a lower reaction time unmasked compared to their masked times. Unfortunately, statistical analysis of the results does not support our findings, so we can only tentatively assume that it is possible for express saccades to be initiated without conscious perception of stimuli. We would like to see this experiment repeated with a larger subject group, and with confirmation of neural activity during saccades, for example with electroencephalography or magnetoencephalography, to localize which regions of the brain and possible pathways are initiated when conscious awareness is absent. The next set of experiments should also control for the metacontrast mask as a possible cue for saccades, as some subjects were unable to produce saccades at all without masking, and the individual variance in reaction times between masked and unmasked conditions were strong.