BCR signaling and dynamic micropatterns
Kiviluoto, Elmeri (2021-12-02)
---
BCR signaling and dynamic micropatterns
(02.12.2021)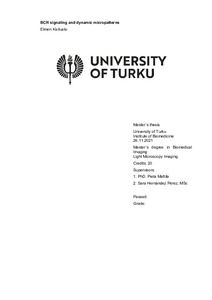 Julkaisu on tekijänoikeussäännösten alainen. Teosta voi lukea ja tulostaa henkilökohtaista käyttöä varten. Käyttö kaupallisiin tarkoituksiin on kielletty.

avoin
Julkaisun pysyvä osoite on:
https://urn.fi/URN:NBN:fi-fe2022013111350
Tiivistelmä
B lymphocytes (B cells) are an important part of the adaptive immune system. Recognition of surface presented antigen, typically on antigen presenting cell (APC), by the B cell receptor (BCR) triggers BCR signaling cascades leading to recruitment of the cytoskeleton and formation of a specialized cell-cell interaction structure, the immunological synapse (IS) on the interface of the APC and B cell. BCR activation ultimately leads to B cell differentiation into an antibody secreting plasma cell or a memory B cell.
Studying the dynamic process of B cell activation presents a challenge, requiring spatial and temporal control over antigen presentation. Micropatterning of functional molecules allows control over cell placement. From many different micropatterning technologies, UV-lithography provides a cost-effective method for creating quality functional micropatterns on a glass substrate.
In this work, I used poly-L-lysine-graft-polyethylene-glycol-biotin (PLL-g-PEG-biotin) coated glass coverslips with fibronectin patterning to control B cell attachment. In our dynamic micropatterns, temporal control of B cell activation is achieved via streptavidin- α IgM Fab acting as a surrogate antigen that binds the PLL-g-PEG-biotin outside the micropattern after cell attachment. Coverslips were imaged with spinning disk confocal or Airyscan confocal microscopy. Images of cells were segmented into separate regions of interest (ROI) and fluorescence intensities were measured inside these ROIs.
This study shows that 1) functional coating of micropatterns was repeatable and highly specific, 2) spatial and temporal control of B cell activation was successful and 3) that enrichment of BCR signaling molecules Btk and PLCγ2 in the cell adhesion plane correlate with areas of antigen engagement.