O-sulfated bacterial polysaccharides with low anticoagulant activity inhibit metastasis
Borgenström M, Wärri A, Hiilesvuo K, Käkönen R, Käkönen S, Nissinen L, Pihlavisto M, Marjamäki A, Vlodavsky I, Naggi A, Torri G, Casu B, Veromaa T, Salmivirta M, Elenius K
---
O-sulfated bacterial polysaccharides with low anticoagulant activity inhibit metastasis
Borgenström M, Wärri A, Hiilesvuo K, Käkönen R, Käkönen S, Nissinen L, Pihlavisto M, Marjamäki A, Vlodavsky I, Naggi A, Torri G, Casu B, Veromaa T, Salmivirta M, Elenius K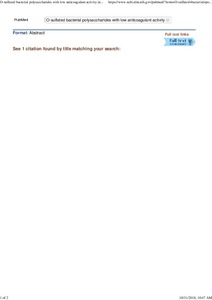 Julkaisun pysyvä osoite on:
https://urn.fi/URN:NBN:fi-fe2021042719911
Tiivistelmä
Heparin-like polysaccharides possess the capacity to inhibit cancer cell
proliferation, angiogenesis, heparanase-mediated cancer cell invasion,
and cancer cell adhesion to vascular endothelia via adhesion receptors,
such as selectins. The clinical applicability of the antitumor effect of
such polysaccharides, however, is compromised by their anticoagulant
activity. We have compared the potential of chemically O-sulfated and
N,O-sulfated bacterial polysaccharide (capsular polysaccharide from E. coli
K5 [K5PS]) species to inhibit metastasis of mouse B16-BL6 melanoma
cells and human MDA-MB-231 breast cancer cells in two in vivo models. We
demonstrate that in both settings, O-sulfated K5PS was a potent
inhibitor of metastasis. Reducing the molecular weight of the
polysaccharide, however, resulted in lower antimetastatic capacity.
Furthermore, we show that O-sulfated K5PS efficiently inhibited the
invasion of B16-BL6 cells through Matrigel and also inhibited the in
vitro activity of heparanase. Moreover, treatment with O-sulfated K5PS
lowered the ability of B16-BL6 cells to adhere to endothelial cells,
intercellular adhesion molecule-1, and P-selectin, but not to
E-selectin. Importantly, O-sulfated K5PSs were largely devoid of
anticoagulant activity. These findings indicate that O-sulfated K5PS
polysaccharide should be considered as a potential antimetastatic agent.