Preparation of Nitrogen-Doped Carbon Materials for the Reduction of 4-Nitrophenol
Ponkamo, Jesse (2022-08-02)
---
Preparation of Nitrogen-Doped Carbon Materials for the Reduction of 4-Nitrophenol
(02.08.2022)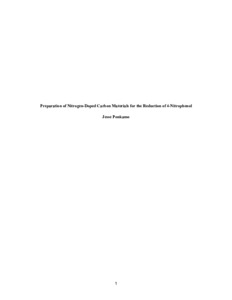 Julkaisu on tekijänoikeussäännösten alainen. Teosta voi lukea ja tulostaa henkilökohtaista käyttöä varten. Käyttö kaupallisiin tarkoituksiin on kielletty.

avoin
Julkaisun pysyvä osoite on:
https://urn.fi/URN:NBN:fi-fe2022081255258
Tiivistelmä
In this work two nitrogen-doped carbon materials were prepared, characterized, and used in modified electrodes for the electrochemical reduction of 4-nitrophenol. The synthesis methods of the two materials were based on two different methods. The first method was pyrolysis of carbon and nitrogen containing source molecules and the second was a hydrothermal synthesis utilizing graphene oxide as starting material and dicyandiamide as nitrogen dopant source. The two materials prepared were characterized by FTIR spectroscopy, Raman spectroscopy, XPS spectroscopy, AFM, SEM. Characterization showed that the materials prepared were nitrogen-doped carbon materials with structure of graphite microplates each showing differing structural and chemical properties from one another. Glassy carbon electrodes coated with the nitrogen-doped carbon materials were prepared and used for the electrochemical reduction of 4-nitrophenol which were analyzed by collecting cyclic voltammograms of the electrochemical process in an electrolyte solution of acetonitrile and tetrabutylammonium hexafluorophosphate. The cyclic voltammograms showed that the nitrogen-doped materials prepared were able to reduce 4-nitrophenol and showed a reduced reduction potential compared to uncoated glassy carbon electrodes. The cyclic voltammograms also broadly demonstrated how the different preparation methods of the nitrogen-doped carbon materials impact structure and their concomitant electrochemical properties.
Samankaltainen aineisto
Näytetään aineisto, joilla on samankaltaisia nimekkeitä, tekijöitä tai asiasanoja.
Lindfors Tom

;

Björnvik Elisabeth

;

Wey Laura T.

;

Allahverdiyeva Yagut

;

Wang Qingbo

;

Lund Sara

;

Latonen Rose-Marie

;

Smått Jan-Henrik

;

Wang Xiaoju

;

Kauppila Jussi

;

Vajravel Sindhujaa

;

Peltonen Jouko

<p>Electroconductive composites of graphene and cellulose nanocrystals (CNC) were prepared by direct exfoliation of natural flake graphite in CNC suspensions. Using the scalable high-shear exfoliation method, we show that ...

Kauppila, Jussi

Turun yliopiston julkaisuja. Sarja AI, Chemica - Physica – Mathematica : 500

(

Turun yliopisto

,

09.12.2014

)

Graphene is a material with extraordinary properties. Its mechanical and electrical properties are unparalleled but the difficulties in its production are hindering its breakthrough in on applications. Graphene is a ...

Chen, Wenquan

(

28.07.2021

)

CO2 is the major component contributing to greenhouse effect that leads to global warming, rise of sea level and climate change. So recycling the content of CO2 at atmosphere is considered to be a promising method for ...

avoin