Breaking the Silence : Current discussion on sexual violence in Japan and in the West in connection with intersectional feminism
Rönkkö, Tanja (2022-03-01)
---
Breaking the Silence : Current discussion on sexual violence in Japan and in the West in connection with intersectional feminism
(01.03.2022)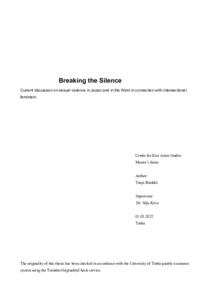 Turun yliopisto
avoin
Julkaisun pysyvä osoite on:
https://urn.fi/URN:NBN:fi-fe2022082456146
Tiivistelmä
Japanese Feminism has been much influenced by the Western movements. Intersectional feminism, in Japan Critical International Feminism, started to gain ground simultaneously with the economic depression at the beginning of the 1990s, and now dominates the feminist narrative. However, intersectionality represents a specific ideology that causes more damage than solve problems, as it already has caused damage to women´s and children´s rights in the West. At the same time in Japan, more attention has been given to problems of sexual harassment and violence against women. Many victims stay silent, but some have broken it. Ito Shiori, a journalist, brought her rape case into open discussion. Ito also brought #MeToo-movement into Japan, and her case together with a sexual harassment case against Fukuda Junichi, then top bureaucrat in Finance Ministry, was topic in Japanese newspapers.

In my thesis I analyzed the narratives of two Japanese newspapers, Asahi Shimbun, a left-leaning newspaper, and Yomiuri Shimbun, a right-leaning newspaper, by using methodology designed to analyze language, content analysis. I focused on how the topic of sexual harassment and the #MeToo-movement were discussed within the analyzed articles. I discovered that both Asahi Shimbun and Yomiuri Shimbun seem to be against harassment and violence against women and do not hesitate to critizice different parties-while still remaining mostly professional. Furthermore, both newspapers discuss the #MeToo-movement in a very positive way, and especially Asahi Shimbun with its special column combines the black´s civil rights movement of the 1960s and present day #WeToo-movement of Japan. These two newspapers lack the critical view of the current civil rights movement of the West, which differs considerably from its predecessor of the 1960s.

In addition to analyzing the articles and discussing violence against women in Japan, I also discussed the topic of intersectionality and its take on the issue of violence against women. Furthermore, I reflected its means of handling these issues and what kind of consequences it would lead to in connection with Japanese society. I concluded that if Intersectionality spreads within the society, it is highly probable that it will start to erode women´s rights. My analysis, however, was limited and included only two cases. In the future it is important to continue this line of research. Since the intersectionality now dominates the academic feminism and it is hostile towards criticism, this topic is left almost untouched.

Keywords
Sexual harassment, sexual violence, Japan, journalism, intersectional feminism, women´s rights.