Ethics and safety of community-based geospatial data processes in the resilient urban South
Aaltonen, Venla (2022-10-05)
---
Ethics and safety of community-based geospatial data processes in the resilient urban South
(05.10.2022)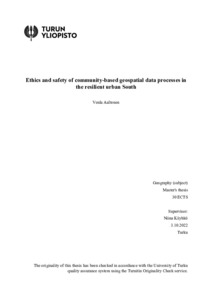 Julkaisu on tekijänoikeussäännösten alainen. Teosta voi lukea ja tulostaa henkilökohtaista käyttöä varten. Käyttö kaupallisiin tarkoituksiin on kielletty.

avoin
Julkaisun pysyvä osoite on:
https://urn.fi/URN:NBN:fi-fe2022101462133
Tiivistelmä
Inhabitants of rapidly growing cities in the Global South are vulnerable against risks in their everyday life, such as exposure to violence, diseases, major floods, and storms that leave behind casualties and damages in infrastructure and livelihoods. Vulnerability to disaster risks can be reduced with holistic and knowledge-based decision-making that aims for sustainable resilience building. Informed resilience building calls for accurate and up-to-date digital geospatial data about the existing infrastructure and its condition, population demographics, environmental features, and the risks and hazards themselves. However, such geospatial data is scarce in many parts of the Global South. To tackle the dearth of official geospatial data, community-based geospatial data processes have emerged. Since they are rather recent innovation in the Global South and they are conducted by variety of stakeholders from local community-led NGOs to official sources and huge international organisations, common agreements on safe professional conduct for such data processes are still non-existing.

The objective of this thesis was to study the ethics and safety of recently emerged community-based geospatial data processes in the context of urban resilience building in the Global South. Main ethical and safety domains was identified via reviewing existing academic research literature. The findings were used as a basis for interviewing community-based geospatial data professionals with expertise working in the Global South. Aim of the interviews was to generate a proper understanding of the ethical and safety considerations in the research context, based on the knowledge and experiences of the interviewees. Finally, the collection of ethical and safety issues drawn from the interviews were compared to existing ethical guidelines for assessing their adequacy in guiding safe community-based geospatial data processes in the Global South.

The results indicate that current academic literature does recognise number of ethical issues that might be encountered when engaging in community-based geospatial data processes in the Global South. However, it is evident that literature is needed from different ethics' application fields to generate a sufficient collection of possible ethical and safety considerations, not just from the geospatial world. Interviewed experts had experienced similar ethical issues as listed based on academic literature. The main ethical considerations where everything else seems to culminate in are transparency, trust, and truthful delivery of impacts.

The results showed that current ethical guidelines are not sufficient for community-based geospatial data processes taking place in the Global South but are rather quite ambiguous in nature and do not cover all relevant ethical domains. Both the academic literature and the interviewed experts called for commonly agreed ethical codes for professional conduct to ensure the safety of community-based geospatial data processes in the given context. However, the former calls for international guidelines that can be applied locally, and the latter would prefer national guidelines that would determine the best practices for e.g. compatible and high-quality data collection, open sharing, and ownership issues. National level guidelines would be able to consider also the ethical and safety problems deriving from the local context, and thus being more representative for the local stakeholders building resilience of their own surroundings than the international common guidelines.