Literary St. Petersburg in Contemporary Russian Transnational Writing: Anya Ulinich, Gary Shteyngart, and Zinaida Lindén
Klapuri Tintti
---
Literary St. Petersburg in Contemporary Russian Transnational Writing: Anya Ulinich, Gary Shteyngart, and Zinaida Lindén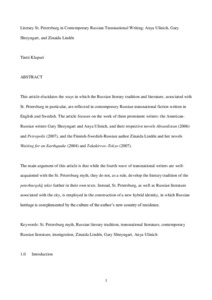 Taylor & Francis
Julkaisun pysyvä osoite on:
https://urn.fi/URN:NBN:fi-fe2021042715996
Tiivistelmä
This article elucidates the ways in which the Russian literary tradition and literature, associated with St. Petersburg in particular, are reflected in contemporary Russian transnational fiction written in English and Swedish. The article focuses on the work of three prominent writers: the American-Russian writers Gary Shteyngart and Anya Ulinich, and their respective novels Absurdistan (2006) and Petropolis (2007), and the Finnish-Swedish-Russian author Zinaida Lindén and her novels Waiting for an Earthquake (2004) and Takakirves–Tokyo (2007).
The main argument of this article is that while the fourth wave of transnational writers are well-acquainted with the St. Petersburg myth, they do not, as a rule, develop the literary tradition of the peterburgskij tekst further in their own texts. Instead, St. Petersburg, as well as Russian literature associated with the city, is employed in the construction of a new hybrid identity, in which Russian heritage is complemented by the culture of the author's new country of residence.