Sadomasochistic Power Relations and Erotica in Audiovisual Music Performances
Pääkkölä Anna-Elena
---
Sadomasochistic Power Relations and Erotica in Audiovisual Music Performances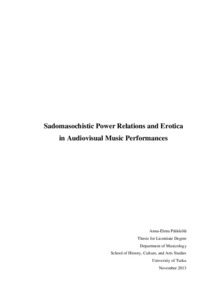 University of Turku
Julkaisun pysyvä osoite on:
https://urn.fi/URN:NBN:fi-fe2021042715010
Tiivistelmä
In this thesis I study the connections between cultural imagery of sadomasochism,
eroticism and music. I interpret my readings of audiovisual music performances with
reference to cultural theories. The research question, how does sadomasochistic
imagery appear or conceal itself in audiovisual music performances, is discussed
with three examples. These examples work as representations of different forms of
sexual desire, which are becoming increasingly popular in media.

The thesis is divided into two parts. Part one is a discussion of sadism, masochism
and sadomasochism as historical, cultural, and aesthetic terms. Chapter 2 discusses each term separately, and suggests musicological standpoints for approaching representations of sadomasochism. Chapter 3 is a discussion of sadomasochism and how, and if, it fits the rubric of queer theories. I propose that the term "kink reading" should be understood in similar terms to "queer reading".
Part two of the thesis is oriented towards cultural music analyses that focus on
sexuality, sadomasochistic imagery and erotica. Chapter four discusses fluid gender
roles connected to power positions in Lady Gaga's music video Alejandro and the
song 'Government Hooker', as well as the performativity of feminine submission in
the Mozart aria 'Batti, Batti'. Chapter five discusses how multisensual experience in
cinema becomes eroticised in the music and sound effects of the film The Secretary.

The study reveals that sadomasochistic-sensitive imagery and erotica is prevalent in
today's media. I also suggest that music can express and negotiate issues of gender, sexuality, and even eroticism and sex when it comes to sadomasochistic
representations.