Boosted by failure? Entrepreneurial internationalisation as a cyclical learning process (Presentation at Annual Meeting of the Academy of International Business 2022)
Paavilainen-Mäntymäki Eriikka; Nummela Niina; Hurmerinta Leila
---
Boosted by failure? Entrepreneurial internationalisation as a cyclical learning process (Presentation at Annual Meeting of the Academy of International Business 2022)
Paavilainen-Mäntymäki Eriikka
Nummela Niina
Hurmerinta Leila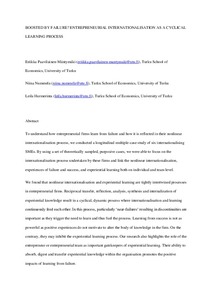 Julkaisun pysyvä osoite on:
https://urn.fi/URN:NBN:fi-fe2023020125315
Tiivistelmä
To understand how entrepreneurial firms learn from failure and how it is reflected in their nonlinear internationalisation process, we conducted a longitudinal multiple-case study of six internationalising SMEs. By using a set of theoretically sampled, purposive cases, we were able to focus on the internationalisation process undertaken by these firms and link the nonlinear internationalisation, experiences of failure and success, and experiential learning both on individual and team level.
We found that nonlinear internationalisation and experiential learning are tightly intertwined processes in entrepreneurial firms. Reciprocal transfer, reflection, analysis, synthesis and internalization of experiential knowledge result in a cyclical, dynamic process where internationalisation and learning continuously feed each other. In this process, particularly 'near-failures' resulting in discontinuities are important as they trigger the need to learn and thus fuel the process. Learning from success is not as powerful as positive experiences do not motivate to alter the body of knowledge in the firm. On the contrary, they may inhibit the experiential learning process. Our research also highlights the role of the entrepreneur or entrepreneurial team as important gatekeepers of experiential learning. Their ability to absorb, digest and transfer experiential knowledge within the organisation promotes the positive impacts of learning from failure.