A System-Level Simulation Model for a Protocol Processor
Yliuntinen, Pasi (2008-04-24T09:40:25Z)
---
A System-Level Simulation Model for a Protocol Processor
(24.04.2008)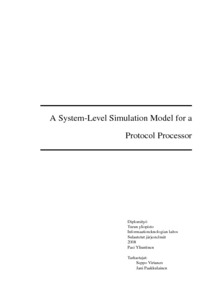 Turun yliopisto
avoin
Julkaisun pysyvä osoite on:
https://urn.fi/URN:NBN:fi-fe201101181104
Kuvaus
Siirretty Doriasta
Tiivistelmä
As the development of integrated circuit technology continues to follow Moore's law the complexity of circuits increases exponentially. Traditional hardware description languages such as VHDL and Verilog are no longer powerful enough to cope with this level of complexity and do not provide facilities for hardware/software codesign. Languages such as SystemC are intended to solve these problems by combining the powerful expression of high level programming languages and hardware oriented facilities of hardware description languages. To fully replace older languages in the desing flow of digital systems SystemC should also be synthesizable.

The devices required by modern high speed networks often share the same tight constraints for e.g. size, power consumption and price with embedded systems but have also very demanding real time and quality of service requirements that are difficult to satisfy with general purpose processors. Dedicated hardware blocks of an application specific instruction set processor are one way to combine fast processing speed, energy efficiency, flexibility and relatively low time-to-market. Common features can be identified in the network processing domain making it possible to develop specialized but configurable processor architectures. One such architecture is the TACO which is based on transport triggered architecture. The architecture offers a high degree of parallelism and modularity and greatly simplified instruction decoding.

For this M.Sc.(Tech) thesis, a simulation environment for the TACO architecture was developed with SystemC 2.2 using an old version written with SystemC 1.0 as a starting point. The environment enables rapid design space exploration by providing facilities for hw/sw codesign and simulation and an extendable library of automatically configured reusable hardware blocks. Other topics that are covered are the differences between SystemC 1.0 and 2.2 from the viewpoint of hardware modeling, and compilation of a SystemC model into synthesizable VHDL with Celoxica Agility SystemC Compiler. A simulation model for a processor for TCP/IP packet validation was designed and tested as a test case for the environment.