Space–Time Block Codes and the Complexity of Sphere Decoding
Mäki, Miia (2010-01-26T07:06:33Z)
---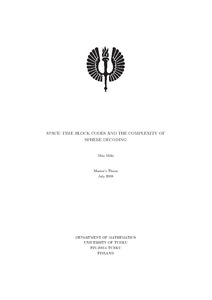 avoin
Turun yliopisto
26.01.2010
Julkaisun pysyvä osoite on:
http://urn.fi/URN:NBN:fi-fe201101181100
Kuvaus
Siirretty Doriasta
Tiivistelmä
In wireless communications the transmitted signals may be affected by noise. The receiver must decode the received message, which can be mathematically modelled as a search for the closest lattice point to a given vector. This problem is known to be NP-hard in general, but for communications applications there exist algorithms that, for a certain range of system parameters, offer polynomial expected complexity.

The purpose of the thesis is to study the sphere decoding algorithm introduced in the article On Maximum-Likelihood Detection and the Search for the Closest Lattice Point, which was published by M.O. Damen, H. El Gamal and G. Caire in 2003. We concentrate especially on its computational complexity when used in space–time coding. Computer simulations are used to study how different system parameters affect the computational complexity of the algorithm. The aim is to find ways to improve the algorithm from the complexity point of view.

The main contribution of the thesis is the construction of two new modifications to the sphere decoding algorithm, which are shown to perform faster than the original algorithm within a range of system parameters.