Spatial and Spectral Separability of Grasslands in the inner Turku Archipelago using Landsat Thematic Mapper Satellite Imagery
Amelinckx, Simon (2010-09-03T09:20:42Z)
---
Spatial and Spectral Separability of Grasslands in the inner Turku Archipelago using Landsat Thematic Mapper Satellite Imagery
(03.09.2010)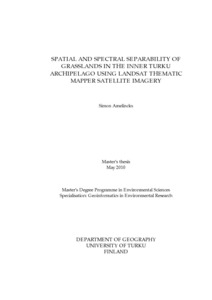 Turun yliopisto
avoin
Julkaisun pysyvä osoite on:
https://urn.fi/URN:NBN:fi-fe201101181082
Kuvaus
Siirretty Doriasta
Tiivistelmä
The present study investigates the spatial and spectral discrimination potential for grassland patches in the inner Turku Archipelago using Landsat Thematic Mapper satellite imagery. The spatial discrimination potential was computed through overlay analysis using official grassland parcel data and a hypothetical 30 m resolution satellite image capturing the site. It found that Landsat TM imagery's ability to retrieve pure or near-pure pixels (90% purity or more) from grassland patches smaller than 1 hectare was limited to 13% success, compared to 52% success when upscaling the resolution to 10 x 10 m pixel size. Additionally, the perimeter/area patch metric is proposed as a predictor for the suitability of the spatial resolution of input imagery. Regression analysis showed that there is a strong negative correlation between a patch's perimeter/area ratio and its pure pixel potential.

The study goes on to characterise the spectral response and discrimination potential for the five main grassland types occurring in the study area: recreational grassland, traditional pasture, modern pasture, fodder production grassland and overgrown grassland. This was done through the construction of spectral response curves, a coincident spectral plot and a contingency matrix as well as by calculating the transformed divergence for the spectral signatures, all based on training samples from the TM imagery. Substantial differences in spectral discrimination potential between imagery from the beginning of the growing season and the middle of summer were found. This is because the spectral responses for these five grassland types converge as the peak of the growing season draws nearer. Recreational grassland shows a consistent discrimination advantage over other grassland types, whereas modern pasture is most easily confused. Traditional pasture land, perhaps the most biologically valuable grassland type, can be spectrally discriminated from other grassland types with satisfactory success rates provided early growing season imagery is used.