When to Utilize Software as a Service
Jakonen, Markus (2011-07-04)
---
When to Utilize Software as a Service
(04.07.2011)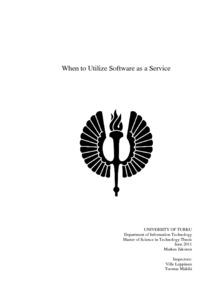 Turun yliopisto
avoin
Julkaisun pysyvä osoite on:
https://urn.fi/URN:NBN:fi-fe201107041824
Kuvaus
Siirretty Doriasta
Tiivistelmä
Cloud computing enables on-demand network access to shared resources (e.g., computation, networks, servers, storage, applications, and services) that can be rapidly provisioned and released with minimal management effort. Cloud computing refers to both the applications delivered as services over the Internet and the hardware and system software in the data centers.

Software as a service (SaaS) is part of cloud computing. It is one of the cloud service models. SaaS is software deployed as a hosted service and accessed over the Internet. In SaaS, the consumer uses the provider's applications running in the cloud. SaaS separates the possession and ownership of software from its use. The applications can be accessed from any device through a thin client interface. A typical SaaS application is used with a web browser based on monthly pricing.

In this thesis, the characteristics of cloud computing and SaaS are presented. Also, a few implementation platforms for SaaS are discussed. Then, four different SaaS implementation cases and one transformation case are deliberated. The pros and cons of SaaS are studied. This is done based on literature references and analysis of the SaaS implementations and the transformation case. The analysis is done both from the customer's and service provider's point of view. In addition, the pros and cons of on-premises software are listed.

The purpose of this thesis is to find when SaaS should be utilized and when it is better to choose a traditional on-premises software. The qualities of SaaS bring many benefits both for the customer as well as the provider.

A customer should utilize SaaS when it provides cost savings, ease, and scalability over on-premises software. SaaS is reasonable when the customer does not need tailoring, but he only needs a simple, general-purpose service, and the application supports customer's core business.

A provider should utilize SaaS when it offers cost savings, scalability, faster development, and wider customer base over on-premises software. It is wise to choose SaaS when the application is cheap, aimed at mass market, needs frequent updating, needs high performance computing, needs storing large amounts of data, or there is some other direct value from the cloud infrastructure.