Animal Lovers, Bridge-Builders, and Supervising Watchdogs: Framing and Civil Society Construction by Japanese Pro-Animal Organizations in the Kansai and Tokyo Areas
Ahonen, Pilvi (2012-02-27)
---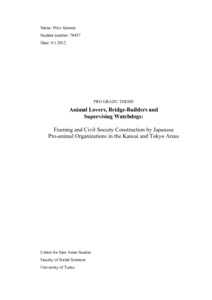 avoin
Turun yliopisto
27.02.2012
Julkaisun pysyvä osoite on:
http://urn.fi/URN:NBN:fi-fe201202271457
Kuvaus
Siirretty Doriasta
Tiivistelmä
Unlike their counterparts in Europe and America, the citizen organizations acting for
the well-being of animals in Japan have not received scholarly attention. In this
research, I explore the activities of twelve Japanese pro-animal organizations in
Tokyo and Kansai area from the perspective of social movement and civil society
studies. The concept of a 'pro-animal organization' is used to refer generally to the
collectives promoting animal well-being.

By using the collective action frame analysis and the three core framing tasks –
diagnostic, prognostic, and motivational – as the primarily analytical tools, I explore
the grievances, tactics, motivational means, constructions of agency and identity as
well as framing of civil society articulated in the newsletters and the interviews of
the twelve organizations I interviewed in Japan in 2010. As the frame construction is
always done in relation to the social and political context, I study how the
organizations construct their roles as civil society actors in relation to other actors,
such as the state, and the idea of citizen activism.

The deficiencies in the animal welfare law and lack of knowledge among the public
are identified as the main grievances. The primary tactic to overcome these problems
was to educate and inform the citizens and authorities, because most organizations
lack the channels to influence politically. The audiences were mostly portrayed as
either ignorant bystanders or potential adherents. In order to motivate people to join
their cause and to enforce the motivation within the organization, the organizations
emphasized their uniqueness, proved their efficiency, claimed credit and celebrated
even small improvements.

The organizations tended to create three different roles for citizen pro-organizations
in civil society: reactive, apolitical and emphatic animal lovers concentrating on
saving individual animals, proactive, educative bridge-builders seeking to establish
equal collaborative relations with authorities, and corrective, supervising watchdogs
demanding change in delinquencies offending animal rights. Based on the results of
this research, I suggest that by studying how and why the different relations between
civil society and the governing actors of the state are constructed, a more versatile
approach to citizens' activism in its context can be achieved.