A Bridge Builder or a Raconteur? How Japan Manoeuvres the Global Development Discourse within the TICAD Process
Kolehmainen, Samu (2012-07-10)
---
A Bridge Builder or a Raconteur? How Japan Manoeuvres the Global Development Discourse within the TICAD Process
(10.07.2012)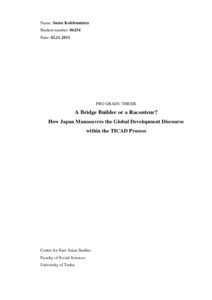 Turun yliopisto
avoin
Julkaisun pysyvä osoite on:
https://urn.fi/URN:NBN:fi-fe201207106188
Kuvaus
Siirretty Doriasta
Tiivistelmä
Japan has been a major actor in the field of development cooperation for five decades,
even holding the title of largest donor of Official Development Assistance (ODA)
during the 1990s. Financial flows, however, are subject to pre-existing paradigms that
dictate both donor and recipient behaviour. In this respect Japan has been left wanting
for more recognition. The dominance of the so called 'Washington Consensus'
embodied in the International Monetary Fund (IMF) and the World Bank has long
circumvented any indigenous approaches to development problems.

The Tokyo International Conference on African Development (TICAD) is a
development cooperation conference that Japan has hosted since 1993 every five years.
As the main organizer of the conference Japan has opted for the leading position of
African development. This has come in the wake of success in the Asian region where
Japan has called attention to its role in the so called 'Asian Miracle' of fast growing
economies. These aspirations have enabled Japan to try asserting itself as a major player
in directing the course of global development discourse using historical narratives from
both Asia and Africa.

Over the years TICAD has evolved into a continuous process with ministerial and
follow-up meetings in between conferences. Each conference has produced a
declaration that stipulates the way the participants approach the question of African
development. Although a multilateral framework, Japan has over the years made its
presence more and more felt within the process. This research examines the way Japan
approaches the paradigms of international development cooperation and tries to direct
them in the context of the TICAD process. Supplementing these questions are inquiries
concerning Japan's foreign policy aspirations.

The research shows that Japan has utilized the conference platform to contest other
development actors and especially the dominant forces of the IMF and the World Bank
in development discourse debate. Japan's dominance of the process is evident in the
narratives found in the conference documents. Relative success has come about by
remaining consistent as shown by the acceptance of items from the TICAD agenda in
other forums, such as the G8. But the emergence of new players such as China has
changed the playing field, as they are engaging other developing countries from a more
equal level.