Information integration and its impacts on logistics performance - Using information technology and systems to facilitate information integration
Johansson, Laura (2012-10-08)
---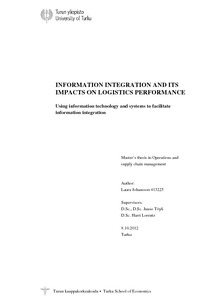 avoin
08.10.2012
Julkaisun pysyvä osoite on:
http://urn.fi/URN:NBN:fi-fe201210269502
Kuvaus
siirretty Doriasta
Tiivistelmä
Fast changing environment sets pressure on firms to share large amount of information with their
customers and suppliers. The terms information integration and information sharing are essential for
facilitating a smooth flow of information throughout the supply chain, and the terms are used
interchangeably in research literature. By integrating and sharing information, firms want to
improve their logistics performance. Firms share information with their suppliers and customers by
using traditional communication methods (telephone, fax, Email, written and face-to-face contacts)
and by using advanced or modern communication methods such as electronic data interchange
(EDI), enterprise resource planning (ERP), web-based procurement systems, electronic trading
systems and web portals. Adopting new ways of using IT is one important resource for staying
competitive on the rapidly changing market (Saeed et al. 2005, 387), and an information system that
provides people the information they need for performing their work, will support company
performance (Boddy et al. 2005, 26).

The purpose of this research has been to test and understand the relationship between
information integration with key suppliers and/or customers and a firm's logistics performance,
especially when information technology (IT) and information systems (IS) are used for integrating
information. Quantitative and qualitative research methods have been used to perform the research.
Special attention has been paid to the scope, level and direction of information integration (Van
Donk & van der Vaart 2005a). In addition, the four elements of integration (Jahre & Fabbe-Costes
2008) are closely tied to the frame of reference. The elements are integration of flows, integration of
processes and activities, integration of information technologies and systems and integration of
actors.

The study found that information integration has a low positive relationship to operational
performance and a medium positive relationship to strategic performance. The potential
performance improvements found in this study vary from efficiency, delivery and quality
improvements (operational) to profit, profitability or customer satisfaction improvements
(strategic). The results indicate that although information integration has an impact on a firm's
logistics performance, all performance improvements have not been achieved. This study also found
that the use of IT and IS have a mediocre positive relationship to information integration. Almost all
case companies agreed on that the use of IT and IS could facilitate information integration and
improve their logistics performance. The case companies felt that an implementation of a web portal
or a data bank would benefit them - enhance their performance and increase information integration.