Cross-cultural knowledge transfer within a multinational company
Prokopenko, Natalia (2012-10-26)
---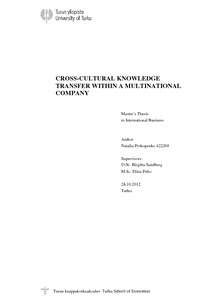 avoin
26.10.2012
Julkaisun pysyvä osoite on:
http://urn.fi/URN:NBN:fi-fe2012121210294
Kuvaus
siirretty Doriasta
Tiivistelmä
The ability to share knowledge efficiently is vital in day-to-day operations of multinational companies. Therefore, the tools for the effective knowledge sharing along with the transfer knowledge models are of a primary interest for the companies. Knowledge transfer often involves participants of different cultural background. The purpose of this research is to investigate how the cross-cultural knowledge transfer in a multinational corporation takes place and how the successful knowledge transfer is ensured. The four sub-questions will help to answer the research question. Firstly, the author will try to identify what difficulties might occur while transferring knowledge in a multicultural environment. Secondly, the cultural differences' impact on cross-cultural communication will be explored. Thirdly, the tools and models for effective tacit knowledge transfer will be covered by the author. Lastly, the methods of assessing if a knowledge transfer was successful or not will be discussed. The focus of this thesis is on knowledge transfer within a multinational setting. A multinational corporation is used as a practical example for this study; namely the Training Centre of the multinational corporation.
The study was carried out by using a qualitative research approach. The four employees of the Training Centre were interviewed in order to obtain the answers to the research questions. The complete idea of the data gathering process can be obtained by reading through the first part of the methodology section Furthermore, the matters of transferability, confirmability, trustworthiness and objectivity were discussed in the methodological section.
The study indicates that in order to carry out the successful and efficient knowledge transfer several requests have to be met. Mutual motivation, e.g. the motivation of both knowledge sender and knowledge receiver is one of the most important determinants of knowledge transfer. Sufficient and bearable workload for the knowledge senders is important to ensure the quality and involvement of the knowledge sender into knowledge transfer process. Course contents, infrastructure and other matters will be discussed further on in relation of successful knowledge transfer. Influences of cultural differences on knowledge sharing were studied in this thesis. At the end of the empirical study- a model used to transfer knowledge in Training Centre will be presented. The model created proves to be functional and appropriate for transferring knowledge to representatives of different cultures.