Building a creative city brand through an international mega-event : Case: Helsinki World Design Capital 2012
Salo, Laura (2012-11-01)
---
Building a creative city brand through an international mega-event : Case: Helsinki World Design Capital 2012
(01.11.2012)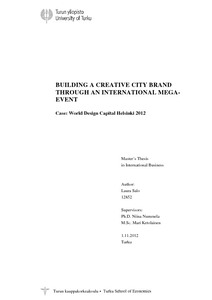 avoin
Julkaisun pysyvä osoite on:
https://urn.fi/URN:NBN:fi-fe2012122110349
Kuvaus
siirretty Doriasta
Tiivistelmä
In order to grow, cities are increasingly competing for attention, jobs, investments, visitors, residents and significant events. Cities need to come up with creative solutions to keep up with the competition; they ought to become creative cities. Attracting talented and diverse inhabitants is a key factor in developing a creative city, which on is characterized by openness, tolerance, vibrancy and diversity. Along the need for renewed city images city brand building has become popular. Helsinki is the World Design Capital 2012 (WDC 2012) and this mega-event presents a meaningful opportunity for the city to broadcast itself globally. The purpose of this study is to evaluate how Helsinki brands itself as a creative city through an international mega-event. The sub-aims are to: 1) Map the factors behind the creative city and their relation to the city of Helsinki, 2) Describe the city branding process, 3) Evaluate the role of the Helsinki World Design Capital 2012 mega-event in Helsinki's creative city brand building.
First, the theory discusses the concept of the creative city that has gained growing attention during the past decade. Then, the city branding process is described and the benefits of hosting a mega-event are presented. Finally, co-branding a city and a mega-event in order to generate maximum benefit from the mega-event, is reviewed. This is a qualitative research for which data was collected through three face-to-face interviews, the World Design Capital 2012 bid, Helsinki's economic development strategy, a consulting firm's research report on the case city and web-pages.
The research reveals that Helsinki has shown interest in the creative city discussion. The terminology around the concept is however approached carefully. Helsinki fits many of the creative city characteristics and recognizes its flaws for which improvement strategies have been planned. Bottlenecks keeping the city from promoting a more open mind were mainly revealed in its organizational structures. Helsinki has no official brand strategy; nonetheless pressure to develop one is present. The World Design Capital 2012 mega-event is seen as a meaningful stepping board to strengthen Helsinki's identity and image, and start thinking about a city brand. The brand strategies of the mega-event support the values and virtues of the city itself, which enables benefits of co-branding introduces in the theory part. Helsinki has no official brand and doesn't call itself a creative city, however this study shows signs of the city taking steps towards building a creative city brand with the help of the Helsinki World Design Capital 2012 mega-event.