Performance of active portfolio management and the effect of stock market trend
Ylijoki, Saku (2012-11-21)
---
Performance of active portfolio management and the effect of stock market trend
(21.11.2012)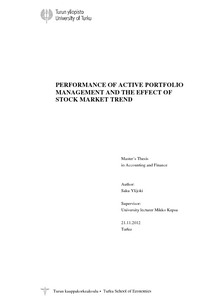 avoin
Julkaisun pysyvä osoite on:
https://urn.fi/URN:NBN:fi-fe201301231651
Kuvaus
siirretty Doriasta
Tiivistelmä
Purpose of the study is to evaluate performance of active portfolio management and the effect of stock market trend on the performance. Theory of efficient markets states that market prices reflect all available information and that all investors share a common view of future price developments. This view gives little room for the success of active management, but the theory has been disputed – at least the level of efficiency. Behavioral finance has developed theories that identify irrational behavior patterns of investors. For example, investment decisions are not made independent of past market developments. These findings give reason to believe that also the performance of active portfolio management may depend on market developments.

Performance of 16 Finnish equity funds is evaluated during the period of 2005 to 2011. In addition two sub periods are constructed, a bull market period and a bear market period. The sub periods are created by joining together the two bull market phases and the two bear market phases of the whole period. This allows for the comparison of the two different market states. Performance of the funds is measured with risk-adjusted performance by Modigliani and Modigliani (1997), abnormal return over the CAPM by Jensen (1968), and market timing by Henriksson and Merton (1981).

The results suggested that in average the funds are not able to outperform the market portfolio. However, the underperformance was found to be lower than the management fees in average which suggests that portfolio managers are able to do successful investment decisions to some extent. The study revealed substantial dependence on the market trend for all of the measures. The risk-adjusted performance measure suggested that in bear markets active portfolio managers in average are able to beat the market portfolio but not in bull markets. Jensen´s alpha and the market timing model also showed striking differences between the two market states. The results of these two measures were, however, somewhat problematic and reliable conclusions about the performance could not be drawn.