The marketing communications industry in flux: Large B2C advertisers' viewpoint
Sederlöf, Jan (2012-12-19)
---
The marketing communications industry in flux: Large B2C advertisers' viewpoint
(19.12.2012)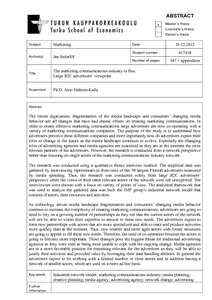 avoin
Julkaisun pysyvä osoite on:
https://urn.fi/URN:NBN:fi-fe201304032685
Kuvaus
siirretty Doriasta
Tiivistelmä
The recent digitization, fragmentation of the media landscape and consumers' changing media behavior are all changes that have had drastic effects on creating marketing communications. In order to create effective marketing communications large advertisers are now co-operating with a variety of marketing communications companies. The purpose of the study is to understand how advertisers perceive these different companies and more importantly how do advertisers expect their roles to change in the future as the media landscape continues to evolve. Especially the changing roles of advertising agencies and media agencies are examined as they are at the moment the most relevant partners of the advertisers. However, the research is conducted from a network perspective rather than focusing on single actors of the marketing communications industry network.

The research was conducted using a qualitative theme interview method. The empirical data was gathered by interviewing representatives from nine of the 50 largest Finnish advertisers measured by media spending. Thus, the research was conducted solely from large B2C advertisers' perspective while the views of their other relevant actors of the network were left unexplored. The
interviewees were chosen with a focus on variety of points of view. The analytical framework that was used to analyze the gathered data was built the IMP group's industrial network model that consists of actors, their resources and activities.

As technology driven media landscape fragmentation and consumers' changing media behavior continue to increase the complexity of creating marketing communications, advertisers are going to need to rely on a growing number of partnerships as they see that the current actors of the network will not be able to widen their expertise to answer to these new needs. The advertisers expect to form new partnerships with actors that are more specialized and able to react and produce activities more quickly than at the moment. Thus, new smaller and more agile actors with looser structures are going to appear to fill these new needs. Therefore, the need of co-operation between the actors is going to become more important. These changes pose the biggest threat for traditional advertising agencies as they were seen as being most unable to cope with the ongoing change. Media agencies are in a more favorable position for remaining relevant for the advertisers as they will be able to justify their activities and provided value by leveraging their data handling abilities. In general the advertisers expect to be working with a limited number of close actors and in addition having a network of smaller actors, which are used on a more ad hoc basis.