Financial Slack and Bidding Firms' Takeover Announcement Stock Returns – an Event Study
Mäntymäki, Janne (2013-02-19)
---
Financial Slack and Bidding Firms' Takeover Announcement Stock Returns – an Event Study
(19.02.2013)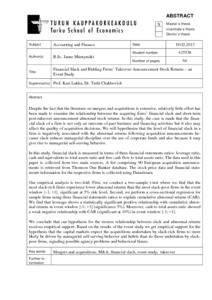 avoin
Julkaisun pysyvä osoite on:
https://urn.fi/URN:NBN:fi-fe201304263350
Kuvaus
siirretty Doriasta
Tiivistelmä
Despite the fact that the literature on mergers and acquisitions is extensive, relatively little effort has been made to examine the relationship between the acquiring firms' financial slack and short-term post-takeover announcement abnormal stock returns. In this study, the case is made that the financial slack of a firm is not only an outcome of past business and financing activities but it also may affect the quality of acquisition decisions. We will hypothesize that the level of financial slack in a firm is negatively associated with the abnormal returns following acquisition announcements because slack reduces managerial discipline over the use of corporate funds and also because it may give rise to managerial self-serving behavior.

In this study, financial slack is measured in terms of three financial statements ratios: leverage ratio, cash and equivalents to total assets ratio and free cash flow to total assets ratio. The data used in this paper is collected from two main sources. A list comprising 90 European acquisition announcements is retrieved from Thomson One Banker database. The stock price data and financial statements information for the respective firms is collected using Datastream.

Our empirical analysis is two-fold. First, we conduct a two-sample t-test where we find that the most slack-rich firms experience lower abnormal returns than the most slack-poor firms in the event window [-1, +1], significant at 5% risk level. Second, we perform a cross sectional regression for sample firms using three financial statements ratios to explain cumulative abnormal returns (CAR).
We find that leverage shows a statistically significant positive relationship with cumulative abnormal returns in event window [-1; +1] (significance 5%). Moreover, cash to total assets ratio showed a weak negative relationship with CAR (significant at 10%) in event window [-1; +1].

We conclude that our hypothesis for the inverse relationship between slack and abnormal returns receives empirical support. Based on the results of the event study we get empirical support for the hypothesis that the capital markets expect the acquisitions undertaken by slack-rich firms to more likely be driven by managerial self-serving behavior and hubris than do those undertaken by slackpoor firms, signaling possible agency problems and behavioral biases.