"THE PATIENT SURVIVED DESPITE THE TREATMENT". A study of Finnish health policy and New Public Management. Case: The Government Resolution on the Health 2015 public health programme.
Vilén, Janina (2013-05-03)
---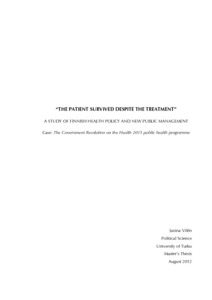 avoin
Turun yliopisto
03.05.2013
Julkaisun pysyvä osoite on:
http://urn.fi/URN:NBN:fi-fe201305033380
Kuvaus
Siirretty Doriasta
Tiivistelmä
Internationally, Finland has been among the most respected countries during several decades in terms of public health. WHO has had the most significant influence on Finnish health policy and the relationship has traditionally been warm. However, the situation has slightly changed in the last 10-20 years. The objectives of Finnish national health policy have been to secure the best possible health for the population and to minimize disparities in health between different population groups. Nevertheless, although the state of public health and welfare has steadily improved, the socioeconomic disparities in health have increased.


This qualitative case study will demonstrate why health is political and why health matters. It will also present some recommendations for research topics and administrative reforms. It will be argued that lack of political interest in health policy leads to absence of health policy visions and political commitment, which can be disastrous for public health. This study will investigate how Finnish health policy is defined and organised, and it will also shed light on Finnish health policy formation processes and actors. Health policy is understood as a broader societal construct covering the domains of different ministries, not just Ministry of Social Affairs and Health (MSAH). The influences of economic recession of the 1990s, state subsidy reform in 1993, globalisation and the European Union will be addressed, as well.


There is not much earlier Finnish research done on health policy from political science viewpoint. Therefore, this study is interdisciplinary and combines political science with administrative science, contemporary history and health policy research with a hint of epidemiology. As a method, literature review, semi-structured interviews and policy analysi will be utilised. Institutionalism, policy transfer, and corporatism are understood as the theoretical framework.


According to the study, there are two health policies in Finland: the official health policy and health policy generated by industry, media and various interest organisations. The complex relationships between the Government and municipalities, and on the other hand, the MSAH and National Institute for Health and Welfare (THL) seemed significant in terms of Finnish health policy coordination. The study also showed that the Investigated case, Health 2015, does not fulfil all necessary criteria for a successful public health programme. There were also several features both in Health 2015 and Finnish health policy, which can be interpreted in NPM framework and seen having NPM influences.