Finnish buyers' perceptions of Indian textile and clothing suppliers: Country of origin in focus
Kosonen, Tytti (2013-04-08)
---
Finnish buyers' perceptions of Indian textile and clothing suppliers: Country of origin in focus
(08.04.2013)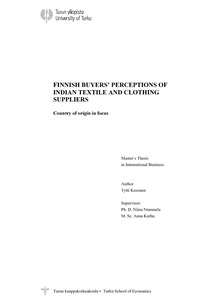 avoin
Julkaisun pysyvä osoite on:
https://urn.fi/URN:NBN:fi-fe201306174056
Kuvaus
siirretty Doriasta
Tiivistelmä
Choosing the right supplier is crucial for long-term business prospects and profitability. Thus organizational buyers are naturally very interested in how they can select the right supplier for their needs. Likewise, suppliers are interested in knowing how their customers make purchasing decisions in order to effectively sell and market to them. From the point of view of the textile and clothing (T&C) industry, regulatory changes and increasing low-cost and globalization pressures have led to the rise of low-cost production locations India and China as the world's largest T&C producers. This thesis will examine T&C trade between Finland and India specifically in the context of non-industrial T&C products. Its main research problem asks: what perceptions do Finnish T&C industry buyers hold of India and Indian suppliers?

B2B buyers use various supplier selection models and criteria in making their purchase decisions. A significant amount of research has been done into supplier selection practices, and in the context of international trade, country of origin (COO) perceptions specifically have garnered much attention. This thesis uses a mixed methods approach (online questionnaire and in-depth interviews) to evaluate Finnish T&C buyers' supplier selection criteria, COO perceptions of India and experiences of Indian suppliers. It was found that the most important supplier selection criteria used by Finnish T&C buyers are quality, reliability and cost. COO perceptions were not found to be influential in purchasing process. Indian T&C suppliers' strengths were found to be low cost, flexibility and a history of traditional T&C expertise. Their weaknesses include product quality and unreliable delivery times.

Overall, the main challenges that need to be overcome by Indian T&C companies are logistical difficulties and the cost vs. quality trade-off. Despite positive perceptions of India for cost, the overall value offered by Indian T&C products was perceived to be low due to poor quality. Unreliable delivery time experiences also affected buyer's reliability perceptions of Indian suppliers. The main limiting factors of this thesis relate to the small sample size used in the research. This limits the generalizability of results and the ability to evaluate the reliability and validity of some of the research instruments.