Professional sports and gambling regulation in Finland - Examining the institutional factors of gambling affecting professional sport clubs in Finland
Ranki, Antti (2013-04-24)
---
Professional sports and gambling regulation in Finland - Examining the institutional factors of gambling affecting professional sport clubs in Finland
(24.04.2013)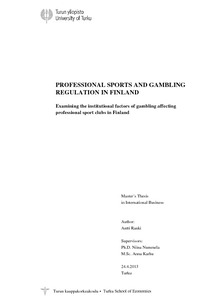 avoin
Julkaisun pysyvä osoite on:
https://urn.fi/URN:NBN:fi-fe201306284110
Kuvaus
siirretty Doriasta
Tiivistelmä
This study examines how to institutional environment of gambling is currently in motion both in Europe and Finland. Furthermore, it examines the criticism by Finnish professional sport clubs directed towards the national gambling monopolies, especially Veikkaus Oy. This criticism addresses the acclaimed issue of low or non-existing sponsorship funds coming to the clubs despite the clubs' duties to promote Veikkaus Oy in their stadiums etc. In essence the main research objective was to examine the interaction and institutional environments of both Finnish professional sport clubs and gambling regulation. This was done through three sub-objectives:
1) to analyze professional sport as business and its institutional environment
2) to analyze the institutions of gambling in their current state and their potential future
3) to evaluate the potential impact of an institutional change in gambling legislation to the professional sport clubs
The findings from Finland were then compared to those of Denmark where an institutional change had occurred in gambling regulation.
Empirical data was collected through multiple interviews. Interviewees represented sport clubs (7), sport association (1), sport league (1), Finnish monopoly representatives (2), commercial gambling providers (1), Danish monopoly system representatives (1), Danish sport club (1). In addition a vast amount of secondary data (e.g. Green and white books by EU, court decisions, a variety of studies etc.).
Theoretically this study combines the aspects of institutional theory with the theory of professional sports as business. This proved to be a rather new approach and no published literature was found to have done specifically this.
The findings of this study are twofold, on the European level it is clear that the momentum if towards a more liberated gambling market while Finland is at the moment trying to go the opposite direction and uphold its monopoly. From the sport club's level the findings suggest that currently sport clubs do not directly benefit from the funds originated from Veikkaus Oy as these funds are more or less used on the association/league levels. However, the clubs themselves are also lacking in self-criticism as they are lacking in clear sponsorship packages/programs which Veikkaus Oy might be interested in participating. If liberation of the gambling market would occur it is highly possible that that the largest clubs in football and ice-hockey would be the main beneficiaries while smaller clubs and sports could possibly be worse off than currently. These interpretations were well supported by the findings from Denmark.