Assessment of purchasing maturity in spare parts supply chain
Asikainen, Santeri (2013-09-15)
---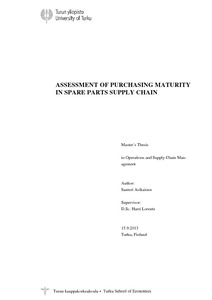 avoin
15.09.2013
Julkaisun pysyvä osoite on:
http://urn.fi/URN:NBN:fi-fe201310186763
Kuvaus
siirretty Doriasta
Tiivistelmä
To describe the change of purchasing moving from administrative to strategic function academics have put forward maturity models which help practitioners to compare their purchasing activities to industry top performers and best practices. However, none of the models aim to distinguish the purchasing maturity from the after-sales point of view, even though after-sales activities are acknowledged as a relevant source of revenue, profit and competitive advantage in most manufacturing firms. The maturity of purchasing and supply management practices have a large impact to the overall performance of the spare parts supply chain and ultimately to the value creation and relationship building for the end customer.

The research was done as a case study for a European after-sales organization which is part of a globally operating industrial firm specialized in heavy machinery. The study mapped the current state of the purchasing practices in the case organization and also distinguished the relevant areas for future development. The study was based on the purchasing maturity model developed by Schiele (2007) and investigated also how applicable is the maturity model in the spare parts supply chain context. Data for the assessment was gathered using five expert interviews inside the case organization and other parties involved in the company's spare parts supply chain. Inventory management dimension was added to the original maturity model in order to better capture the important areas in a spare parts supply chain. The added five questions were deduced from the spare parts management literature and verified as relevant areas by the case organization's personnel.

Results indicate that largest need for development in the case organization are: better collaboration between sourcing and operative procurement functions, use of installed base information in the spare parts management, training plan development for new buyers, assessment of aligned KPI's between the supply chain parties and better defining the role of after-sales sourcing. The purchasing maturity model used in this research worked well in H&R Leading, Controlling and Inventory Management dimensions. The assessment was more difficult to conduct in the Supplier related processes, Process integration and Organizational structure –dimensions, mainly because the assessment in these sections would for some parts require more company-wide assessment. Results indicate also that the purchasing maturity model developed by Schiele (2007) captures the relevant areas in the spare parts supply as well.