Spatial multicriteria decision analysis for the siting of on-shore wind power in Kemiönsaari
Oksman, Sonja (2013-10-29)
---
Spatial multicriteria decision analysis for the siting of on-shore wind power in Kemiönsaari
(29.10.2013)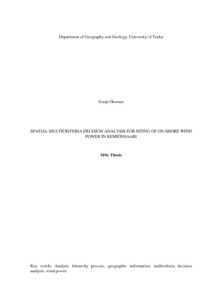 Turun yliopisto
avoin
Julkaisun pysyvä osoite on:
https://urn.fi/URN:NBN:fi-fe201310296887
Kuvaus
Siirretty Doriasta
Tiivistelmä
Wind power is a low-carbon energy production form that reduces the dependence of society on fossil fuels. Finland has adopted wind energy production into its climate change mitigation policy, and that has lead to changes in legislation, guidelines, regional wind power areas allocation and establishing a feed-in tariff. Wind power production has indeed boosted in Finland after two decades of relatively slow growth, for instance from 2010 to 2011 wind energy production increased with 64 %, but there is still a long way to the national goal of 6 TWh by 2020.
This thesis introduces a GIS-based decision-support methodology for the preliminary identification of suitable areas for wind energy production including estimation of their level of risk. The goal of this study was to define the least risky places for wind energy development within Kemiönsaari municipality in Southwest Finland. Spatial multicriteria decision analysis (SMCDA) has been used for searching suitable wind power areas along with many other location-allocation problems. SMCDA scrutinizes complex ill-structured decision problems in GIS environment using constraints and evaluation criteria, which are aggregated using weighted linear combination (WLC). Weights for the evaluation criteria were acquired using analytic hierarchy process (AHP) with nine expert interviews. Subsequently, feasible alternatives were ranked in order to provide a recommendation and finally, a sensitivity analysis was conducted for the determination of recommendation robustness.
The first study aim was to scrutinize the suitability and necessity of existing data for this SMCDA study. Most of the available data sets were of sufficient resolution and quality. Input data necessity was evaluated qualitatively for each data set based on e.g. constraint coverage and attribute weights. Attribute quality was estimated mainly qualitatively by attribute comprehensiveness, operationality, measurability, completeness, decomposability, minimality and redundancy. The most significant quality issue was redundancy as interdependencies are not tolerated by WLC and AHP does not include measures to detect them. The third aim was to define the least risky areas for wind power development within the study area. The two highest ranking areas were Nordanå-Lövböle and Påvalsby followed by Helgeboda, Degerdal, Pungböle, Björkboda, and Östanå-Labböle. The fourth aim was to assess the recommendation reliability, and the top-ranking two areas proved robust whereas the other ones were more sensitive.