Creating generation Y sources of motivation for enhanced performance
Lähteenmäki, Suvi (2013-09-11)
---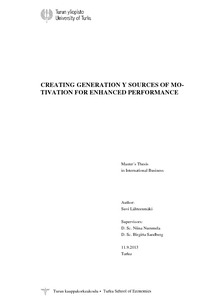 avoin
11.09.2013
Julkaisun pysyvä osoite on:
http://urn.fi/URN:NBN:fi-fe201311067003
Kuvaus
siirretty Doriasta
Tiivistelmä
New challenges have been created in the modern work environment as the diversity of the workforce is greater than ever in terms of generations. There will become a large demand of generation Y employees as the baby boomer generation employees retire at an accelerated rate. The purpose of this study is to investigate Y generation specific characteristics and to identify motivational systems to enhance performance. The research questions are: 1. What are Y generation characteristics? 2. What motivational systems organizations can form to motivate Y generation employees and in turn, create better performance? The Y generation specific characteristics identified from the literature include; achievement oriented; confident; educated; multitasking; having a need for feedback; needing management support; sociable and tech savvy. The proposed motivational systems can be found in four areas of the organization; HRM, training and development, communication and decision making policies. Three focus groups were held to investigate what would motivate generation Y employees to achieve better performance. Two of these focus groups were Finnish natives and the third consisted of international students. The HRM systems included flexibility and a culture of fun. It was concluded that flexibility within the workplace and role was a great source of motivation. Culture of fun was not responded to as favorably although most focus group participants rated enjoyableness as one of their top motivating factors. Training and development systems include training programs and mentoring as sources of potential motivation. Training programs were viewed as a mode to gain a better position and were not necessarily seen as motivational systems. Mentoring programs were not concluded to have a significant effect on motivation. Communication systems included keeping up with technology, clarity and goals as well as feedback. Keeping up with technology was seen as an ineffective tool to motivate. Clarity and goal setting was seen as very important to be able to perform but not necessarily motivating. Feedback had a highly motivating effect on these focus groups. Decision making policies included collaboration and teamwork as well as ownership. Teams were familiar and meet the social needs of Y generation employees and are motivating. Ownership was equated with trust and responsibility and was highly valued as well as motivating to these focus group participants.