ERP implementation in SMEs : Consultant – Client Views On Critical Success Factors
Abbas, Massam (2013-10-11)
---
ERP implementation in SMEs : Consultant – Client Views On Critical Success Factors
(11.10.2013)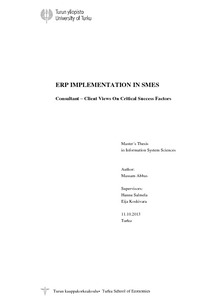 avoin
Julkaisun pysyvä osoite on:
https://urn.fi/URN:NBN:fi-fe201312117610
Kuvaus
siirretty Doriasta
Tiivistelmä
ERP system is now attracting the SMEs, as it is now economical and affordable for them. The current research emphasizes on "how to make ERP successful for SMEs". The researchers have identified various critical success factors in implementation of ERP. The research gap noticed by author is the missing point of view of ERP consultant. This thesis investigates the answer of research question "What are the critical success factors in implementation of ERP system in SMEs in opinion of ERP consultants and acquiring organizations". The purpose of this study is to identify the highly important and less important factors. The study results will suggest the ERP managers where they have to concentrate more in order to achieve success.

Literature is reviewed in order to setup a base for empirical study. Aplenty of work is found related to CSFs, SMEs and ERP. The authors and factors are organized in form of a table that tells which author is agreed upon which factor. Final result of literature review is a list of 14 CSFs. The qualitative research methodology is used to investigate the ERP in Pakistani SMEs. A case study approach is selected because of unified nature of SMEs in Pakistan. A rice mill is selected as a case because it contains maximum SME attributes. The opinion of a Microsoft certified consultant is obtained by a semi-structured interview. Similarly a semi-structured interview is conducted with CIO of SME that acquired ERP. Both the interviewees are asked about all 14 factors, whether they are agree or not and why. The collected evidences then analyzed by tabulation. The factors upon which both the participants found agreed, taken as highly important. Similarly the factors upon which both participants found disagree, taken as less important. Study results present a grid with four quadrants, the CSFs highly important in opinion of both, the CSFs less important in opinion of both, CSFs important in opinion of consultant but not client, CSFs important in opinion of client but not consultant. In discussion part, the significance of each factor is discussed individually. It is discussed that why some factors are high/less important for SMEs in Pakistan.

The study output communicates a message that the success of ERP system in SMEs is linked with careful management of five important factors, the project management, top management support, user training and education, consultant participation and ERP teamwork and composition. The ERP consultants and managers can divert their concentration from less important factors such as user involvement, culture readiness and ERP package selection, toward the highly important factors. The limitations of the study are small number of interviews and less people involved, provide an opportunity for future research in this field of information system.