An interaction framework for deploying the knowledge of diasporas: Using Finland as an example
Harikkala, Riikka (2013-12-11)
---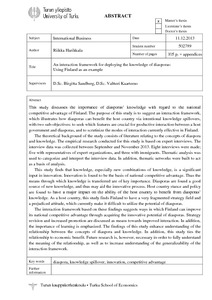 avoin
11.12.2013
Julkaisun pysyvä osoite on:
http://urn.fi/URN:NBN:fi-fe2014031421582
Kuvaus
siirretty Doriasta
Tiivistelmä
This study discusses the importance of diasporas' knowledge with regard to the national competitive advantage of Finland. The purpose of this study is to suggest an interaction framework, which illustrates how diasporas can benefit the host country via intentional knowledge spillovers, with two sub-objectives: to seek which features are crucial for productive interaction between a host government and diasporas, and to scrutinize the modes of interaction currently effective in Finland.

The theoretical background of the study consists of literature relating to the concepts of diaspora and knowledge. The empirical research conducted for this study is based on expert interviews. The interview data was collected between September and November 2013. Eight interviews were made; five with representatives of expert organizations, and three with immigrants. Thematic analysis was used to categorize and interpret the interview data. In addition, thematic networks were built to act as a basis of analysis.

This study finds that knowledge, especially new combinations of knowledge, is a significant input in innovation. Innovation is found to be the basis of national competitive advantage. Thus the means through which knowledge is transferred are of key importance. Diasporas are found a good source of new knowledge, and thus may aid the innovative process. Host country stance and policy are found to have a major impact on the ability of the host country to benefit from diasporas' knowledge. As a host country, this study finds Finland to have a very fragmented strategy field and a prejudiced attitude, which currently make it difficult to utilize the potential of diasporas.

The interaction framework based on these findings suggests ways in which Finland can improve its national competitive advantage through acquiring the innovative potential of diasporas. Strategy revision and increased promotion are discussed as means towards improved interaction. In addition, the importance of learning is emphasized. The findings of this study enhance understanding of the relationship between the concepts of diaspora and knowledge. In addition, this study ties the relationship to economic benefit. Future research is, however, necessary in order to fully understand the meaning of the relationship, as well as to increase understanding of the generalizability of the interaction framework.