Social entrepreneurship – Believe in it or not!
Renda, Jonathan (2014-01-22)
---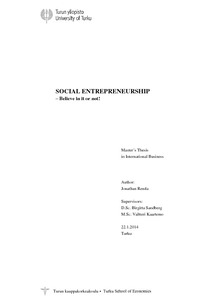 avoin
22.01.2014
Julkaisun pysyvä osoite on:
http://urn.fi/URN:NBN:fi-fe2014032021639
Kuvaus
siirretty Doriasta
Tiivistelmä
The practice of social entrepreneurship already exists for a long time but the concept is quite new and has more recently raised a growing interest among academics. However, the majority of researches and considerations about the subject have taken a strong positive concern by omitting some sort of a critical reflection.
The idea of this study is to consider the gap between the very optimistic and the more precautious concerns about social entrepreneurship. It means presenting the advantages and downsides connected to the topic in the business, public and third sector. The aim is to help the reader building his/her own belief on social entrepreneurship by considering the positive and negative sides of social entrepreneurship. Hence, the research is intended to take a critical step and aims to answer to the following research questions:
 Shall we believe in social entrepreneurship?
 What are the reasons for believing or not in social entrepreneurship taking into account the advantages and possible risks of it in the business, public, and third sector?
The theoretical framework consists of the comparison between the promising and precautious sides about social entrepreneurship for private, public and non-governmental organizations including the actors or participants inside these sectors. The empirical part is conducted using a qualitative method. Personal interviews of experts in the fields of business, public and third sectors were handled. The purpose of this approach is to compare the critics in theory with the experience of persons dealing with social entrepreneurship.
The results from the interviews revealed that in general, reasons for believing in social entrepreneurship prevail over critics about the subject. Social entrepreneurship may not yet represent a full performing business. Concerns for weakening the public power and putting aside the interests of communities in need may exist too. Furthermore, naïve and extra liberal ways of thinking or doing can lead to practices going in opposition with initial social objectives. Nevertheless, problems about social entrepreneurship would be mainly due to the young age of the movement. Time and experience would give better foundations and results to social entrepreneurs. Critics about social entrepreneurship could also easily be done to any sorts of business. Overall, the positive considerations of social entrepreneurship with skillful, motivated and responsible actors could represent some useful tools for enterprises, governments and charities. Some tools among many other possibilities to help people in need.