Managing innovation in oil and gas companies: A proposed framework for the management of innovation at Ecopetrol S.A.
Rueda Huérfano, Lorena Isabel (2013-10-13)
---
Managing innovation in oil and gas companies: A proposed framework for the management of innovation at Ecopetrol S.A.
Rueda Huérfano, Lorena Isabel
(13.10.2013)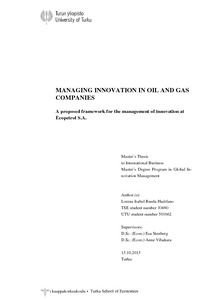 avoin
Julkaisun pysyvä osoite on:
https://urn.fi/URN:NBN:fi-fe2014032021640
Kuvaus
siirretty Doriasta
Tiivistelmä
Actually, the term innovation seems to be one of the most used in any kind of business practices. However, in order to get value from it, companies need to define a systematic and structured way to manage innovation. This process can be difficult and very risky since it is associated with the development of firm´s capabilities which involves human and technical challenges according to the context of a firm. Additionally, it seems not to exist a magic formula to manage innovation and what may work in a company may not work in another, even though in the same type of industry. In this sense, the purpose of this research is to identify how the oil and gas companies can manage innovation and what are the main elements, their interrelations and structure, required for managing innovation effectively in this critical sector for the world economy.

The study follows a holistic single case study in a National Oil Company (NOC) of a developing country to explore how innovation performs in the industry, what are the main elements regarding innovation management and their interactions according to the nature of the industry. Contributory literature and qualitative data from the case study company (with the use of non-standardized interviews) is collected and analyzed.

The research confirms the relevance and importance of the definition and implementation of an innovation framework in order to ensure the generation of value and organize as well as guide the efforts in innovation done by a firm. In this way based on the theoretical background, research´s findings, and in the company´s innovation environment and conditions, a framework for managing innovation at the case study company is suggested.

This study is one of the few, if not only one, that has reviewed the way as oil and gas companies manage innovation and its practical implementation in a company from a developing country. Both researchers and practitioners will get a photograph of understanding innovation management in the oil and gas industry and its growing necessity in the business world. Some issues have been highlighted, so that future study can be focused in those directions. In fact, even though research on innovation management has significantly grown, there are still many issues that need to be addressed to get insight about managing innovation in various contexts and industries. Studies are mostly performed in the context of large firms and in developed countries, so then research in the context of developing countries is still almost an untouched area, especially in the oil and gas industry. Finally, from the research it seems crucial to explore the effect of some innovation-related variables such as: open innovation in third world economies and in state-own companies; the impact of mergers and acquisitions in innovation performance in oil and gas companies; value measurement in the first stages of the innovation process; and, development of innovation capabilities in companies from developing nations.