Value co-creation in gaming the industry: A qualitative research on virtual discussion forums
Chisty, Mohammad (2014-05-26)
---
Value co-creation in gaming the industry: A qualitative research on virtual discussion forums
(26.05.2014)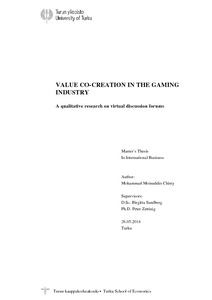 avoin
Julkaisun pysyvä osoite on:
https://urn.fi/URN:NBN:fi-fe2014061226461
Kuvaus
siirretty Doriasta
Tiivistelmä
This study discusses the procedures of value co-creation that persist in gaming industry. The purpose of this study was to identify the procedures that persist in current video gaming industry which answers the main research problem how value is co-created in video gaming industry followed by three sub questions: (i) What is value co-creation in gaming industry? (ii) Who participates in value co-creation in gaming industry? (iii) What are the procedures that are involved in value co-creation in gaming industry?

The theoretical background of the study consists of literature relating to the theory of marketing i.e., notion of value, conventional understanding of value creation, value chain, co-creation
approach, co-production approach. The research adopted qualitative research approach. As a platform of relationship researcher used web 2.0 tool interface. Data were collected from the social networks and netnography method was applied for analyzing them.

Findings show that customer and company both co-create optimum level of value while they interact with each other and within the customers as well. However mostly the C2C interaction,
discussions and dialogues threads that emerged around the main discussion facilitated to co-create value. In this manner, companies require exploiting and further motivating, developing and supporting the interactions between customers participating in value creation.
Hierarchy of value co-creation processes is the result derived from the identified challenges of value co-creation approach and discussion forums data analysis. Overall three general sets and seven topics were found that explored the phenomenon of customer to customer (C2C) and business to customer (B2C) interaction/debating for value co-creation through user generated contents. These topics describe how gamer contributes and interacts in co-creating value along with companies. A methodical quest in current research literature acknowledged numerous evolving flows of value in this study. These are general management perspective, new product development and innovation, virtual customer environment, service science and service dominant logic. Overall the topics deliver various realistic and conceptual implications for using and handling gamers in social networks for augmenting customers' value co-creation process.