Silk and ink. What were silk wallets, and what can they, together with Jacobina Charlotta Munterhjelm's diary, tell us about the gentry women's lives in the 18th and 19th century?
Virtanen, Anu (2014-06-17)
---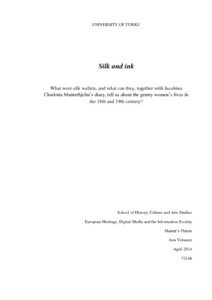 avoin
Turun yliopisto
17.06.2014
Julkaisun pysyvä osoite on:
http://urn.fi/URN:NBN:fi-fe2014061729298
Kuvaus
Siirretty Doriasta
Tiivistelmä
The subject of this thesis is the elaborate silk wallets and what can they tell about the gentry women's lives in the 18th and 19th century Finland together Jacobina Charlotta Munsterhjelm's diary. Silk wallets were made of silk and decorated by embroidering, they were used to preserve memorabilia and letters. Making these lavish items took time, skills and materials, and the decorations usually contained symbols and messages. As main source there are silk wallets from the collections of the National Museum of Finland and Satakunta Museum, as well as the diary of Jacobina Munsterhjelm from 1799 to 1801. By interpreting these items we can build a picture of gentry women's lives. The culture of silk wallets is European, the silk wallet phenomenon studied is Swedish-Finnish, and the research is limited mainly in Finland by its sources. This research has been carried out by constructing a cultural context to the silk wallets with the help of Ginzburg's methods from his work Juusto ja madot - 1500-luvun myllärin maailmankuva. Silk wallets represent the gentry as well as the communication culture in the 18th and 19th centuries, but have remained unstudied.
The thesis consists of two parts, the first focuses on the silk wallets, from where were they developed, how they were made, and to their decorations. The silk wallet culture developed among the gentry handicrafts during the 18th century and faded during the early 20th century. The making of the silk wallets demanded time, skills and materials. The decorations contain messages and symbols – they contain the possible affections the makers might have toward the receiver, and reflect the status and qualities of the receiver. The second part examines the makers, the gentry women, and the handicraft culture which played a big role in their lives, through silk wallets and the diary of Jacobina Munstehjelm. From there it continues to the affections and meanings which can be found from the silk wallets.