Balancing creativity and risk intelligence in professional knowledge-intensive business services
Siniagina, Mariia (2014-05-02)
---
Balancing creativity and risk intelligence in professional knowledge-intensive business services
(02.05.2014)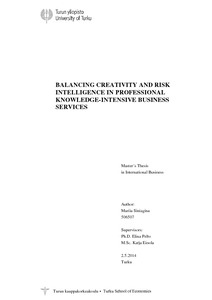 avoin
Julkaisun pysyvä osoite on:
https://urn.fi/URN:NBN:fi-fe2014061729299
Kuvaus
siirretty Doriasta
Tiivistelmä
The main strengths of professional knowledge-intensive business services (P-KIBS) are knowledge and creativity which needs to be fostered, maintained and supported. The process of managing P-KIBS companies deals with financial, operational and strategic risks. That is why it is reasonable to apply risk management techniques and frameworks in this context. A significant challenge hides in choosing reasonable ways of implementing risk management, which will not limit creative ability in organization, and furthermore will contribute to the process. This choice is related to a risk intelligent approach which becomes a justified way of finding the required balance. On a theoretical level the field of managing both creativity and risk intelligence as a balanced process remains understudied in particular within KIBS industry. For instance, there appears to be a wide range of separate models for innovation and risk management, but very little discussion in terms of trying to find the right balance between them. This study aims to shed light on the importance of well-managed combination of these concepts.
The research purpose of the present study is to find out how the balance between creativity and risk intelligence can be managed in P-KIBS. The methodological approach utilized in the study is strictly conceptual without empirical aspects. The research purpose can be achieved through answering the following research supporting questions:
1. What are the characteristics and role of creativity as a component of innovation process in a P-KIBS company?
2. What are the characteristics and role of risk intelligence as an approach towards risk management process implementation in a P-KIBS company?
3. How can risk intelligence and creativity be balanced in P-KIBS?
The main theoretical contribution of the study conceals in a proposed creativity and risk intelligence stage process framework. It is designed as an algorithm that can be applied on organizational canvas. It consists of several distinct stages specified by actors involved, their roles and implications. Additional stage-wise description provides detailed tasks for each of the enterprise levels, while combining strategies into one. The insights driven from the framework can be utilized by a vast range of specialists from strategists to risk managers, and from innovation managers to entrepreneurs. Any business that is designing and delivering knowledge service can potentially gain valuable thoughts and expand conceptual understanding from the present report. Risk intelligence in the current study is a unique way of emphasizing the role of creativity in professional knowledge-intensive industry and a worthy technique for making profound decisions towards risks.