Flavonoids and other phenolic compounds: characterization and interactions with lepidopteran and sawfly larvae
Vihakas, Matti (2014-11-14)
---
Flavonoids and other phenolic compounds: characterization and interactions with lepidopteran and sawfly larvae
(14.11.2014)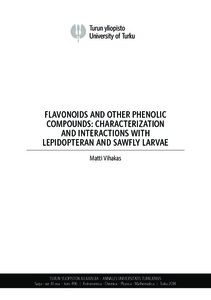 Turun yliopisto Annales Universitatis Turkuensis A I 496
Julkaisun pysyvä osoite on:
https://urn.fi/URN:ISBN:978-951-29-5906-8
Kuvaus
Siirretty Doriasta
Tiivistelmä
This thesis focuses on flavonoids, a subgroup of phenolic compounds produced by plants, and how they affect the herbivorous larvae of lepidopterans and sawflies. The first part of the literature review examines different techniques to analyze the chemical structures of flavonoids and their concentrations in biological samples. These techniques include, for example, ultraviolet-visible spectroscopy, mass spectrometry, and nuclear magnetic resonance spectroscopy. The second part of the literature review studies how phenolic compounds function in the metabolism of larvae. The harmful oxidation reactions of phenolic compounds in insect guts are also emphasized. In addition to the negative effects, many insect species have evolved the use of phenolic compounds for their own benefit.

In the experimental part of the thesis, high concentrations of complex flavonoid oligoglycosides were found in the hemolymph (the circulatory fluid of insects) of birch and pine sawflies. The larvae produced these compounds from simple flavonoid precursors present in the birch leaves and pine needles. Flavonoid glycosides were also found in the cocoon walls of sawflies, which suggested that flavonoids were used in the construction of cocoons. The second part of the experimental work studied the modifications of phenolic compounds in conditions that mimicked the alkaline guts of lepidopteran larvae. It was found that the 24 plant species studied and their individual phenolic compounds had variable capacities to function as oxidative defenses in alkaline conditions. The excrements of lepidopteran and sawfly species were studied to see how different types of phenolics were processed by the larvae. These results suggested that phenolic compounds were oxidized, hydrolyzed, or modified in other ways during their passage through the digestive tract of the larvae.