Quantitative Magnetic Resonance Imaging of the Liver and Heart In Iron Overload
Virtanen, Johanna (2014-12-12)
---
Quantitative Magnetic Resonance Imaging of the Liver and Heart In Iron Overload
(12.12.2014)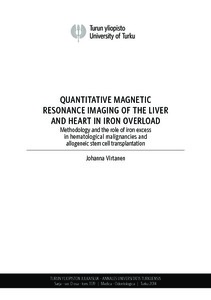 Turun yliopisto
Julkaisun pysyvä osoite on:
https://urn.fi/URN:ISBN:978-951-29-5878-8
Kuvaus
Siirretty Doriasta
Tiivistelmä
Systemic iron overload (IO) is considered a principal determinant in the clinical outcome of different forms of IO and in allogeneic hematopoietic stem cell transplantation (alloSCT). However, indirect markers for iron do not provide exact quantification of iron burden, and the evidence of iron-induced adverse effects in hematological diseases has not been established. Hepatic iron concentration (HIC) has been found to represent systemic IO, which can be quantified safely with magnetic resonance imaging (MRI), based on enhanced transverse relaxation. The iron measurement methods by MRI are evolving.

The aims of this study were to implement and optimise the methodology of non-invasive iron measurement with MRI to assess the degree and the role of IO in the patients. An MRI-based HIC method (M-HIC) and a transverse relaxation rate (R2*) from M-HIC images were validated. Thereafter, a transverse relaxation rate (R2) from spin-echo imaging was calibrated for IO assessment. Two analysis methods, visual grading and rSI, for a rapid IO grading from in-phase and out-of-phase images were introduced. Additionally, clinical iron indicators were evaluated. The degree of hepatic and cardiac iron in our study patients and IO as a prognostic factor in patients undergoing alloSCT were explored.

In vivo and in vitro validations indicated that M-HIC and R2* are both accurate in the quantification of liver iron. R2 was a reliable method for HIC quantification and covered a wider HIC range than M-HIC and R2*. The grading of IO was able to be performed rapidly with the visual grading and rSI methods. Transfusion load was more accurate than plasma ferritin in predicting transfusional IO. In patients with hematological disorders, the prevalence of hepatic IO was frequent, opposite to cardiac IO. Patients with myelodysplastic syndrome were found to be the most susceptible to IO. Pre-transplant IO predicted severe infections during the early post-transplant period, in contrast to the reduced risk of graft-versus-host disease. Iron-induced, poor transplantation results are most likely to be mediated by severe infections.