NIR-Vis Up-Conversion Luminescence in the Yb3+,Er3+ Doped Y2O2S, ZrO2, and NaYF4 Nanomaterials
Pihlgren, Laura (2014-12-16)
---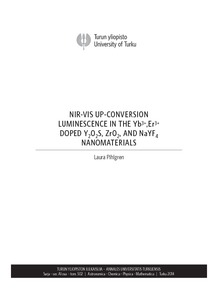 Turun yliopisto Annales Universitatis Turkuensis A I 502
16.12.2014
Julkaisun pysyvä osoite on:
http://urn.fi/URN:ISBN:978-951-29-5957-0
Kuvaus
Siirretty Doriasta
Tiivistelmä
Since the discovery of the up-conversion phenomenon, there has been an ever increasing interest in up-converting phosphors in which the absorption of two or more low energy photons is followed by emission of a higher energy photon. Most up-conversion luminescence materials operate by using a combination of a trivalent rare earth (lanthanide) sensitizer (e.g. Yb or Er) and an activator (e.g. Er, Ho, Tm or Pr) ion in a crystal lattice. Up-converting phosphors have a variety of potential applications as lasers and displays as well as inks for security printing (e.g. bank notes and bonds). One of the most sophisticated applications of lanthanide up-conversion luminescence is probably in medical diagnostics. However, there are some major problems in the use of photoluminescence based on the direct UV excitation in immunoassays. Human blood absorbs strongly UV radiation as well as the emission of the phosphor in the visible. A promising way to overcome the problems arising from the blood absorption is to use a long wavelength excitation and benefit from the up-conversion luminescence. Since there is practically no absorption by the whole-blood in the near IR region, it has no capability for up-conversion in the excitation wavelength region of the conventional up-converting phosphor based on the Yb3+ (sensitizer) and Er3+ (activator) combination.


The aim of this work was to prepare nanocrystalline materials with high red (and green) up-conversion luminescence efficiency for use in quantitative whole-blood immunoassays. For coupling to biological compounds, nanometer-sized (crystallite size below 50 nm) up-converting phosphor particles are required. The nanocrystalline ZrO2:Yb3+,Er3+, Y2O2S:Yb3+,Er3+, NaYF4:Yb3+,Er3+ and NaRF4-NaR'F4 (R: Y, Yb, Er) materials, prepared with the combustion, sol-gel, flux, co-precipitation and solvothermal synthesis, were studied using the thermal analysis, FT-IR spectroscopy, transmission electron microscopy, EDX spectroscopy, XANES/EXAFS measurements, absorption spectroscopy, X-ray powder diffraction, as well as up-conversion and thermoluminescence spectroscopies. The effect of the impurities of the phosphors, crystallite size, as well as the crystal structure on the up-conversion luminescence intensity was analyzed. Finally, a new phenomenon, persistent up-conversion luminescence was introduced and discussed.


For efficient use in bioassays, more work is needed to yield nanomaterials with smaller and more uniform crystallite sizes. Surface modifications need to be studied to improve the dispersion in water. On the other hand, further work must be carried out to optimize the persistent up-conversion luminescence of the nanomaterials to allow for their use as efficient immunoassay nanomaterials combining the advantages of both up-conversion and persistent luminescence.