Enhancing the Usability of Drug Materials by Electrostatic Atomisation
Nyström, Maija (2014-11-12)
---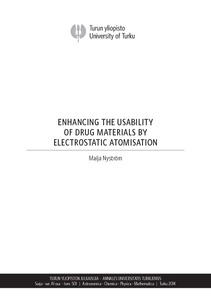 Turun yliopisto Annales Universitatis Turkuensis A I 501
12.11.2014
Julkaisun pysyvä osoite on:
http://urn.fi/URN:ISBN:978-951-29-5949-5
Kuvaus
Siirretty Doriasta
Tiivistelmä
Electrospraying or electrostatic atomisation is a process of liquid disruption by electrostatic forces. When liquid is brought into an electric field, charge is induced to its surface. Once the repulsive electrostatic force exceeds the liquid surface tension, the liquid disrupts into small highly charged droplets. The size of the electrosprayed droplets can range from hundreds of micrometers down to a few tens of nanometers.

Electrospraying can be used not only to produce droplets, but also solid particles. The research presented in this thesis concentrates on producing drug particles by this method. In the experiments, a drug powder was dissolved in a convenient solvent and the solution was atomised. The solvent was then evaporated from the formed droplets in a drying medium and inside each droplet, a dense cluster of the dissolved drug remained. From the pharmaceutical point of view, the most important characteristics of the produced particles are size distribution, porosity, crystal form and degree of crystallinity. These properties affect the dissolution behaviour and ultimately the drug bioavailability in the body. The effects of electrostatic atomization on the aforementioned characteristics are generally not well understood. The research focused on studying these particle properties and finding possible correlations with the spraying parameters.

The produced droplets were dried either under atmospheric or reduced pressure, the latter in order to improve the drying process. Special emphasis was put on implementing the spraying under reduced pressure, and the effects of the drying pressure on particle properties. Based on the results, the possibilities to enhance the dissolution of poorly soluble drugs by this method were estimated. In the course of experiments, it was also discovered that electrospraying may have a profound effect on the polymorphic form of the produced drug particles. In the light of the obtained results, it was concluded that electrospraying may offer a valuable tool to overcome some of the challenges met in modern drug development and formulation.