Production, isolation and characterization of bioactive peptides with antihypertensive properties from rapeseed and potato protein
Mäkinen, Sari (2014-12-12)
---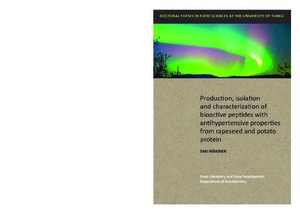 Turun yliopisto
12.12.2014
Julkaisun pysyvä osoite on:
http://urn.fi/URN:ISBN:798-951-29-5965-5
Kuvaus
Siirretty Doriasta
Tiivistelmä
Consumers' increasing awareness of healthiness and sustainability of food
presents a great challenge to food industry to develop healthier, biologically
active and sustainable food products. Bioactive peptides derived from food
proteins are known to possess various biological activities. Among the
activities, the most widely studied are antioxidant activities and angiotensin I
converting enzyme (ACE) inhibitory activity related to blood pressure
regulation and antihypertensive effects. Meanwhile, vast amounts of byproducts
with high protein content are produced in food industry, for example
potato and rapeseed industries. The utilization of these by-products could be
enhanced by using them as a raw material for bioactive peptides.

The objective of the present study was to investigate the production of
bioactive peptides with ACE inhibitory and antioxidant properties from
rapeseed and potato proteins. Enzymatic hydrolysis and fermentation were
utilized for peptide production, ultrafiltration and solid-phase extraction were
used to concentrate the active peptides, the peptides were fractionated with
liquid chromatographic processes, and the peptides with the highest ACE
inhibitory capacities were putified and analyzed with Maldi-Tof/Tof to identify
the active peptide sequences. The bioavailability of the ACE inhibitory
peptides was elucidated with an in vitro digestion model and the
antihypertensive effects in vivo of rapeseed peptide concentrates were
investigated with a preventive premise in 2K1C rats.

The results showed that rapeseed and potato proteins are rich sources of
ACE inhibitory and antioxidant peptides. Enzymatic hydrolysis released the
peptides effectively whereas fermentation produced lower activities.The native
enzymes of potato were also able to release ACE inhibitory peptides from
potato proteins without the addition of exogenous enzymes. The rapeseed
peptide concentrate was capable of preventing the development of hypertension
in vivo in 2K1C rats, but the quality of rapeseed meal used as raw material was
found to affect considerably the antihypertensive effects and the composition of
the peptide fraction.