Prognostic Factors In Breast Cancer. With Special Reference to Cyclins A, B1, D1 and E, MMP-1 and Decorin
Boström, Pia (2014-12-05)
---
Prognostic Factors In Breast Cancer. With Special Reference to Cyclins A, B1, D1 and E, MMP-1 and Decorin
(05.12.2014)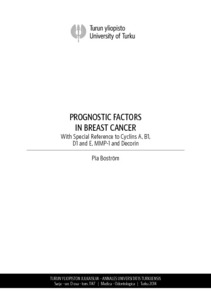 Annales Universitatis Turkuensis D 1147 Turun yliopisto
Julkaisun pysyvä osoite on:
https://urn.fi/URN:ISBN:978-951-29-5931-0
Kuvaus
Siirretty Doriasta
Tiivistelmä
Breast cancer is a highly heterogenous malignancy, which despite of the similar
histological type shows different clinical behaviour and response to therapy. Prognostic
factors are used to estimate the risk for recurrence and the likelihood of treatment
effectiveness. Because breast cancer is one of the most common causes of cancer death
in women worldwide, identification of new prognostic markers are needed to develop
more specific and targeted therapies.

Cancer is caused by uncontrolled cell proliferation. The cell cycle is controlled by specific
proteins, which are known as cyclins. They function at important checkpoints by activating
cyclin-dependent kinase enzymes. Overexpression of different cyclins has been linked to
several cancer types and altered expression of cyclins A, B1, D1 and E has been associated
with poor survival. Little is known about the combined expression of cyclins in relation to
the tumour grade, breast cancer subtype and other known prognostic factors. In this study
cyclins A, B1 and E were shown to correlate with histological grade, Ki-67 and HER2
expression. Overexpression of cyclin D1 correlated with receptor status and non-basal
breast cancer suggesting that cyclin D1 might be a marker of good prognosis.

Proteolysis in the surrounding tumour stroma is increased during cancer development.
Matrix metalloproteinases (MMPs) are proteolytic enzymes that are capable of degrading
extracellular matrix proteins. Increased expression and activation of several MMPs have
been found in many cancers and MMPs appear to be important regulators of invasion and
metastasis. In this study MMP-1 expression was analysed in breast cancer epithelial cells
and in cancer associated stromal cells. MMP-1 expression by breast cancer epithelial
cells was found to carry an independent prognostic value as did Ki-67 and bcl-2. The
results suggest that in addition to stromal cells MMP-1 expression in tumour cells control
breast cancer progression.

Decorin is a small proteoglycan and an important component of the extracellular
matrix. Decorin has been shown to inhibit growth of tumour cells and reduced decorin
expression is associated with a poor prognosis in several cancer types. There has been
some suspicion wheather different cancer cells express decorin. In this study decorin
expression was shown to localize only in the cells of the original stroma, while breast
cancer epithelial cells were negative for decorin expression. However, transduction of
decorin in decorin-negative human breast cancer cells markedly modulated the growth
pattern of these cells. This study provides evidence that targeted decorin transduction
to breast cancer cells could be used as a novel adjuvant therapy in breast malignancies.